6 Best Practices to Structure Google Shopping Campaigns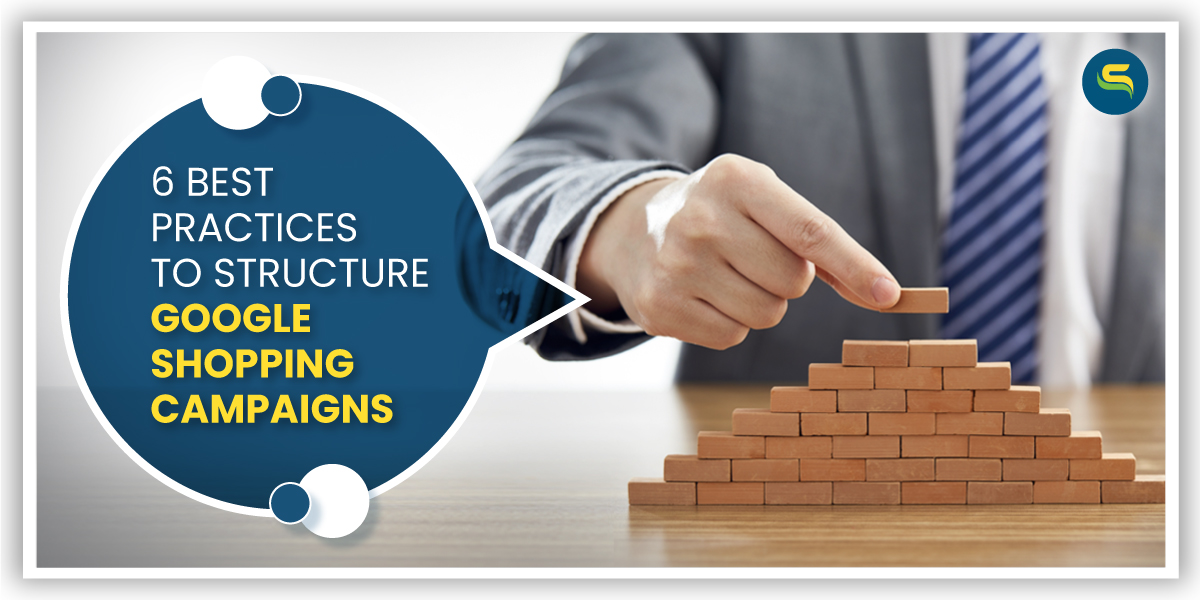 Understanding the Structure of Google Shopping Campaigns
The structure of Google Advertising is organized into three tiers:
The Campaign at the top
The Ad group at the second level
The Ad level at the bottom layer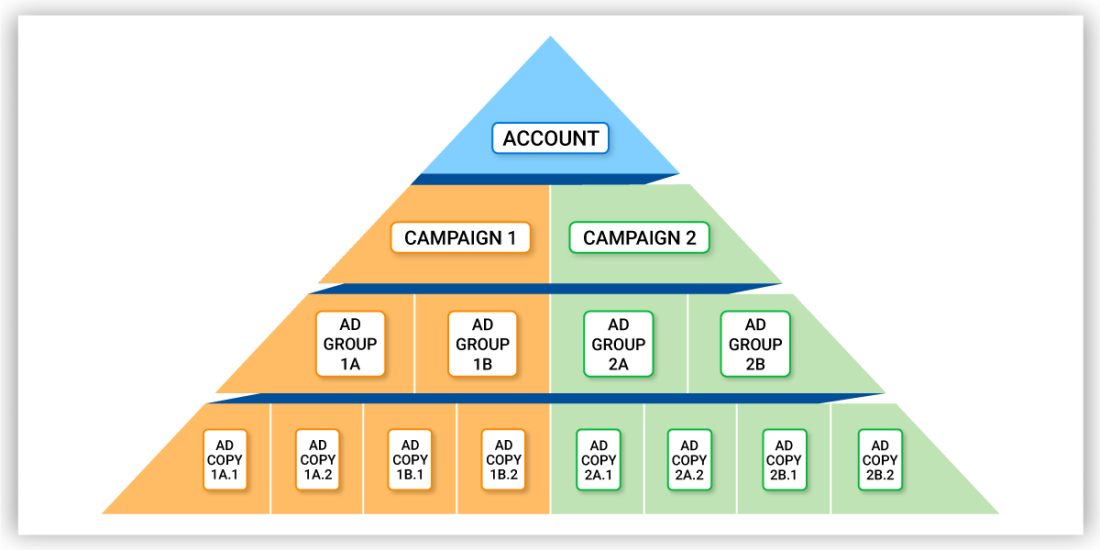 These three levels contain specific components that we will go through one by one.
– Campaign level
Top-level consists of the primary campaign settings such as campaign goals(Traffic, leads, or Sales), or types(Search, Display, or Shopping), budget, bidding strategy, targeting options, location, and language.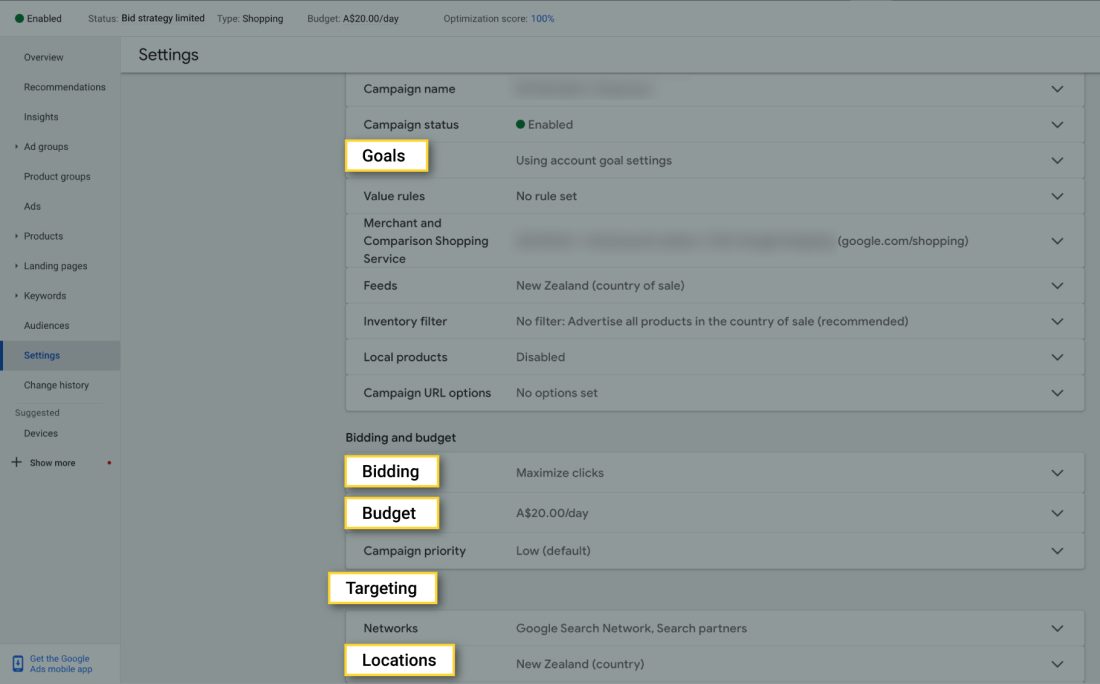 Let's just say your goal is to increase the visibility of your Brand then you can start with creating a Google Display Ads campaign to target an audience that is relevant to your business. You can use either an In-market audience or Remarketing Audience.
Or if you are looking for new leads for your services then you should consider running Google Search campaign, here you can test bidding strategies such as enhanced CPC or Target CPA.
You can also define or narrow down the location where you want to advertise within the campaign setting.
– Ad group level
At this level, you can create one or multiple ad groups. Ad groups or Product groups (in the case of a Shopping campaign) allow you to segment similar products or services together within each group.
For Example: If you are running ads for a Leather bags Store, you can create separate ad groups for backpacks, Shoulder bags, and Laptop bags.
When creating an Ad group, you will also need to set up a targeting option by adding keywords (in case of a Search campaign) that are related to your products or services. You will also need to add Negative keywords for the words or phrases for which you don't want to show your ads. You should not add more than 20 keywords per ad group.
Depending upon the bidding strategy, you might also have to set up a bid at the Ad group level.
If you have selected a manual bidding strategy then you will have to assign a bid at the ad group level.
– Ad level
You can create multiple ads within one Ad group. When creating an ad copy, you will need to write multiple headlines & descriptions, and enter the landing page URL & image(if applicable).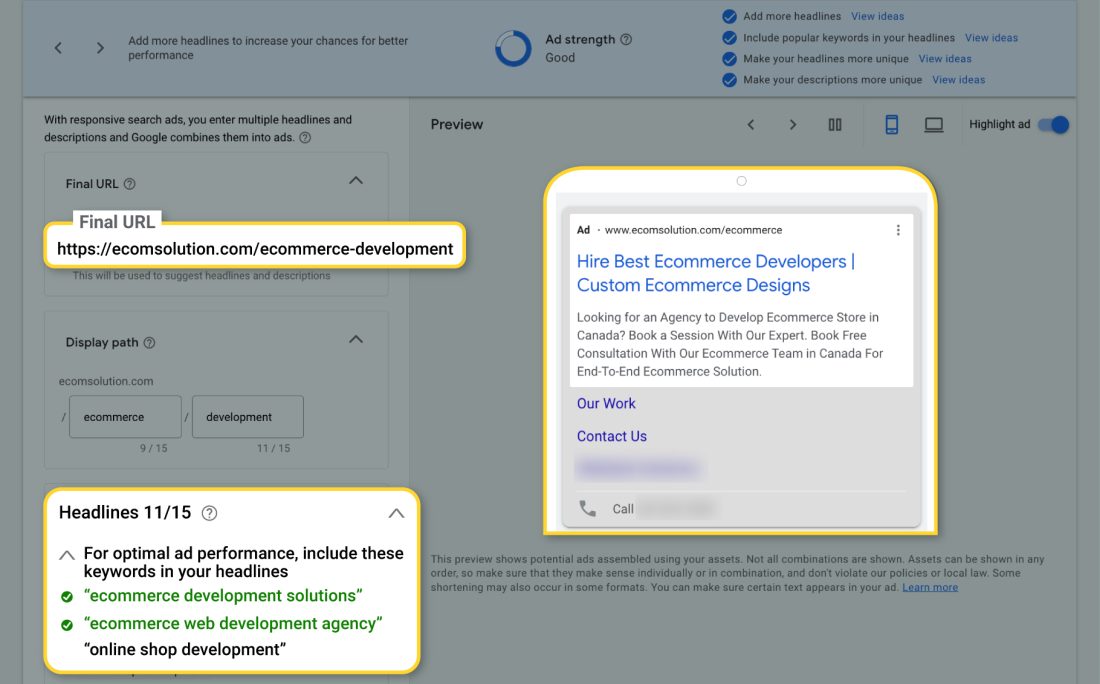 Content in the Ad copy must match the Keyword intent to improve the ad relevancy score.
A hook that can grab people's attention like a discount offer or easy solution should also be added to the Ad copy.
At the Ad level, you can also link ad extensions like site links, location & callouts that may increase the chances of clicks.
Best Practices to Structure Google Shopping Campaigns
Google Shopping campaign is a great way to advertise/promote your products on Google search and shopping ads result pages. Google Shopping helps you showcase products with images, titles, prices, and other relevant attributes to potential customers searching for products online.
Now let's discuss best practices to follow while structuring Google Shopping campaigns.
To start setting it up, you will have to follow these steps
1. Organize Product groups
Organize product groups by grouping products into categories & subcategories of your eCommerce store.
For example, you can create an ad group for the Men's clothing category, and within the ad group, you can create a product group for Men's Shirts subcategory. You can also use Product attributes such as Brand, Product Type, Channel, and Custom labels to create or subdivide product groups. This allows for more granular control over bids.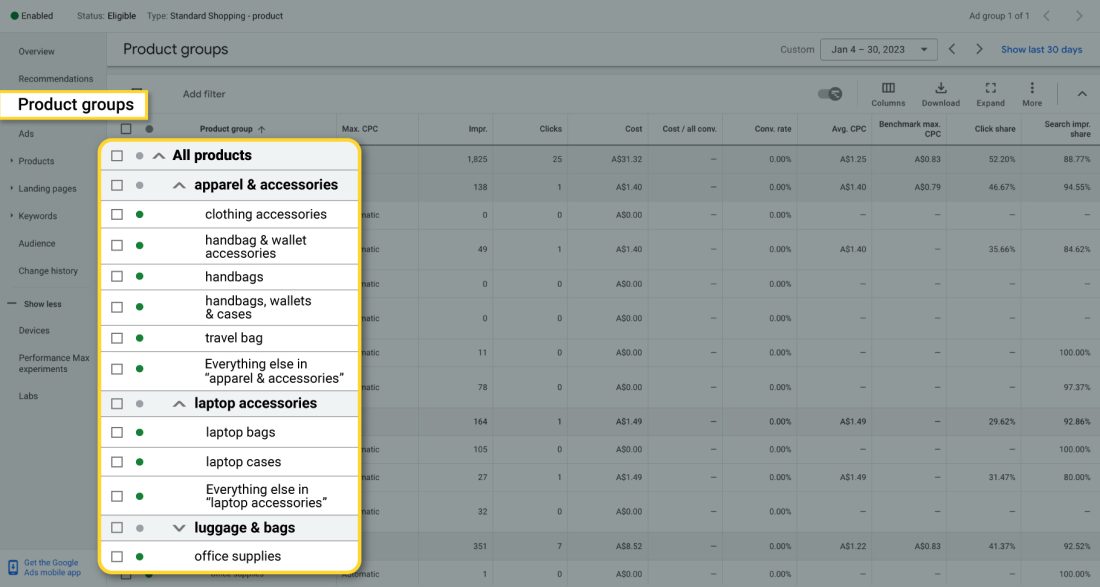 2. Ads
In the Standard Shopping campaign, Ads are automatically created from the Product data feed submitted to the Google Merchant Center. Make sure to submit highly optimized Product images, titles, and descriptions to the feed.
3. Budget & Bid Strategy
The Budget and bidding strategy should be set keeping in mind the goals & objectives of the campaign, seasonality of products, target audience, etc.
In the Shopping campaign if your initial focus is to drive more traffic to the Store then you should start with a maximize clicks strategy in which Google will try to get maximum traffic within a set budget, or if your priority is to improve the ROI of the Shopping campaign, then you should select tROAS bidding strategy and set ROAS Target as per the profit margin of your products.
4. Keywords
Keywords cannot directly be added to the Shopping campaign, however, you can add relevant keywords in the product titles & descriptions by optimizing the product feed.
You should also add unwanted or non-relevant "search terms" to the Negative keywords list for which you don't want to show your Products on the Shopping ad results.
5. Conversion Tracking
Conversion tracking is a must to measure the performance & effectiveness of the Shopping campaign and optimize accordingly. Conversion tracking helps you to track actions taken by users on the Store website such as adding the products to the cart or purchasing the product. Conversion tracking is also very beneficial to e-commerce-based campaigns as it can help calculate total revenue from purchases and ROI.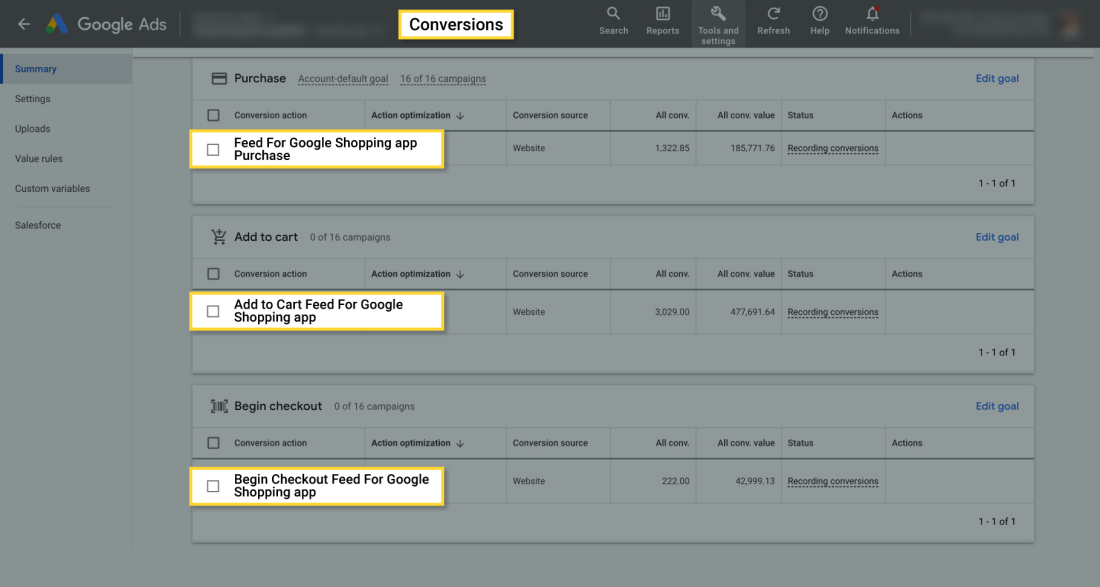 6. Audience Targeting
Use Audience Targeting in the Shopping campaign if you like to target specific audiences like Remarketing audiences. It will allow you to reach out to users who are already interested in your product or services.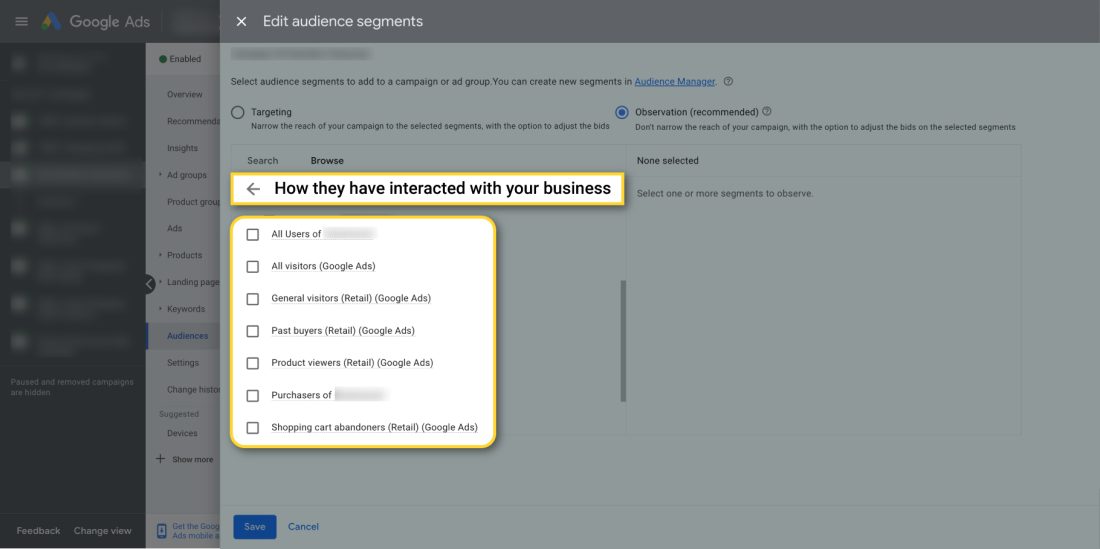 It will likely increase the CTR & conversion rate as your ads will have more chances to be seen by users. There are other audience types as well that you can test in Shopping campaigns like Interest-based custom audiences or Similar audiences.
By following these best practices you can make sure that your campaign is well-structured & optimized.