Best Practices for Product Description Optimization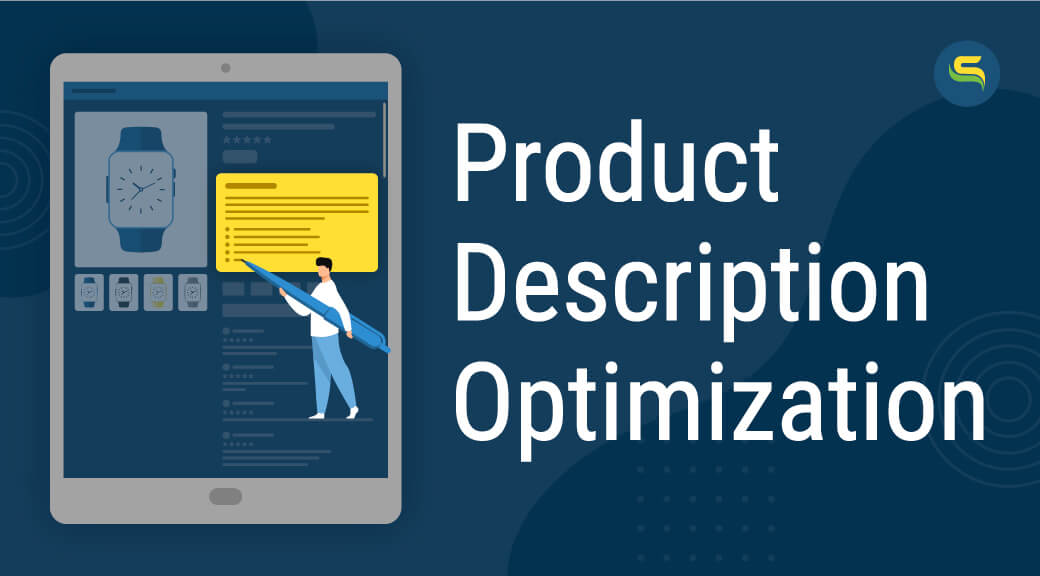 Imagine what it would be like if you are searching for a product on Google and the result displays exactly what you were looking for, with the title and image that matches your needs.
However, the product description isn't available. Will you consider buying the product?
In simple words, a product description describes the characteristics & specifications of a product in detail. It usually contains the product's features and benefits along with visual attributes that bring attention to why a visitor should consider purchasing from your site.

Any product that sells in the market solves a purpose. All you need to take care of while writing the product's description is to highlight the purpose it solves and how it eases a purchaser's life by focusing on its Unique Selling Points (USPs).

When it comes to converting prospects into customers "the words" become incredibly important.
It can be a major drawback if your product description is missing or the information conveyed through the description is not clear; Then your product description failed to do its job effectively.

Quick Tips to enhance the quality of Product Description
1. The description should be product-centric. The primary goal is to convey what the product does and why someone should buy it, by creating a need for the product in the purchaser's life.
Let's take a look at these examples:
The one in red shows the color of the bag but leaves out a key detail, like the product's use case, product measurements, and highlighted features.

Look at this example in green; it provides all of the information a user needs to know about the product as well as a larger perspective of the product's USE CASE (i.e., Travel).

2. Google allows you to add the product description within the character limit of 5000. One thing to keep in mind is that the first 160-500 characters are shown, thus we recommend that you include all of the crucial facts and keywords in the first 160-500 characters.
3. Highlight the information that cannot be covered with the product title and image.

While product title and image are playing their respective roles a little more added information about the product in the description serves as a bonus.
4. The products which aren't very popular or have a distinctive nature must be covered with a detailed description that may contain:

-> Product description with the most relevant visual attributes (color, shape, dimensions, etc)
-> Use case of the product in detail (What contexts may the product be used?)
-> Technical Specifications (product's warranty, specifications, etc )
-> Try to incorporate the answers to the questions that may arise from your customers while viewing the product in your store.
-> Extended information about products like manufacturer details, wash & care instructions, warnings, etc.
5. Keep the audience you intend to target in mind while writing the product description. A product's description should be tailored to what your customers need to know.
6. Use MPN and GTIN values in the description if you are selling branded products, where people search for your products using the unique MPN or GTIN value. This will authenticate your store in front of your consumers.
If you have already written product descriptions for the products on your website and they aren't performing well, then they can be corrected with a few minor tweaks.
Unpleasant Description < Minor Tweaks > Exceptional Description
A few of the things that we would like to recommend based on our experience are listed as follows

Put yourself in the shoes of the buyers while writing a description of your product.
For example:
If you are selling a skincare product like Toner, on your website and someone is buying it for the 1st time; it would act as an added advantage if you would include "How to use" instructions in the product description itself.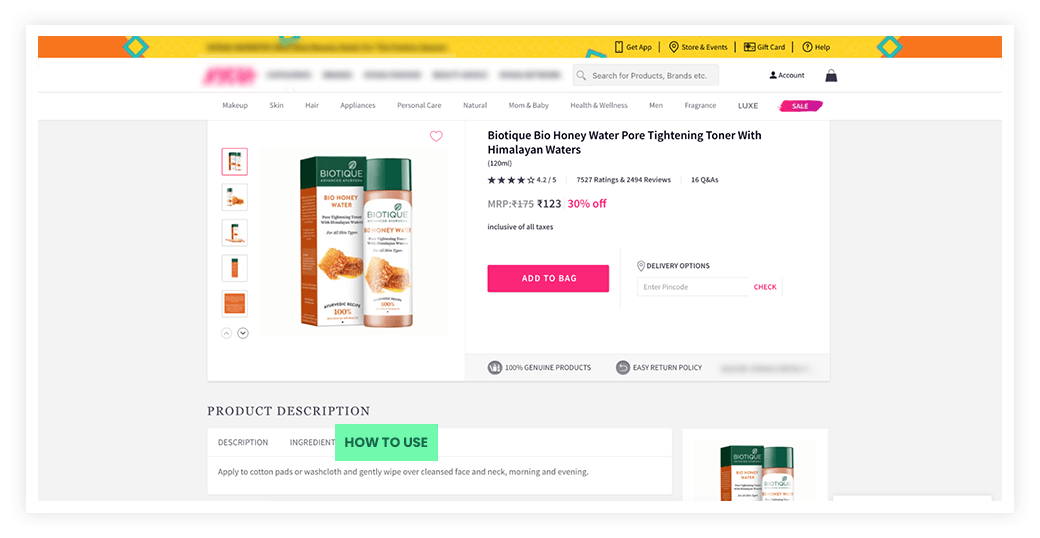 Use features and benefits to drive sales.
Present the features and benefits in such a way that it illustrates how the product enriches the lives of the consumers.

Let's say you're selling shoes, and you're aware that there are many other merchants doing the same. In this case, how you can present your product matters so that it distinguishes itself from the rest of your competitors in the market.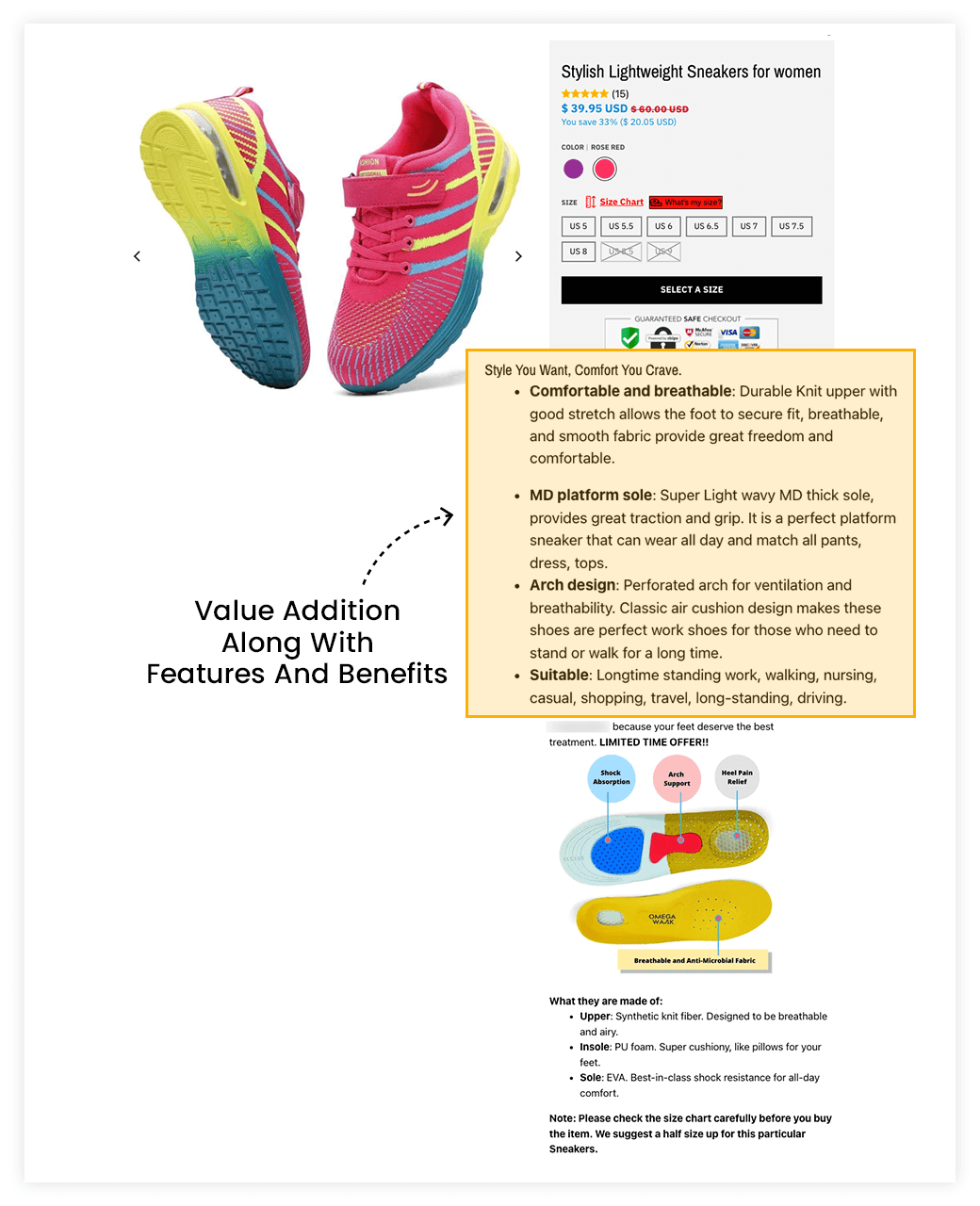 Your product's description should reflect the tone and voice of what your brand stands for.
Basically, the product description should convey the Brand's USPs.

For example, if you are a seller of leather bags, you could use phrases like:

100% Genuine Leather
Pure Leather
Rich top-grain leather

If you are a seller of electronic or problem-solving products, you could use phrases like:
One of a kind Robo cleaner
Revolutionary product
Sensational product

To communicate how you stand out in the market or to represent your brand and to boost persuasiveness to buy the product.
Note: If you include any superlatives in your product description, please make sure you justify them.

Add bullet points or small paragraphs to ensure the product description can be scanned smoothly at a glance.
To make it easier for your customers to go through descriptions, use headings and subheadings for better clarity. This will also make your description look more informative and interactive.

Later, when your products are advertised on various platforms like Google, Microsoft (Bing), or Facebook, you automatically submit a well-optimized product description with headings and subheadings.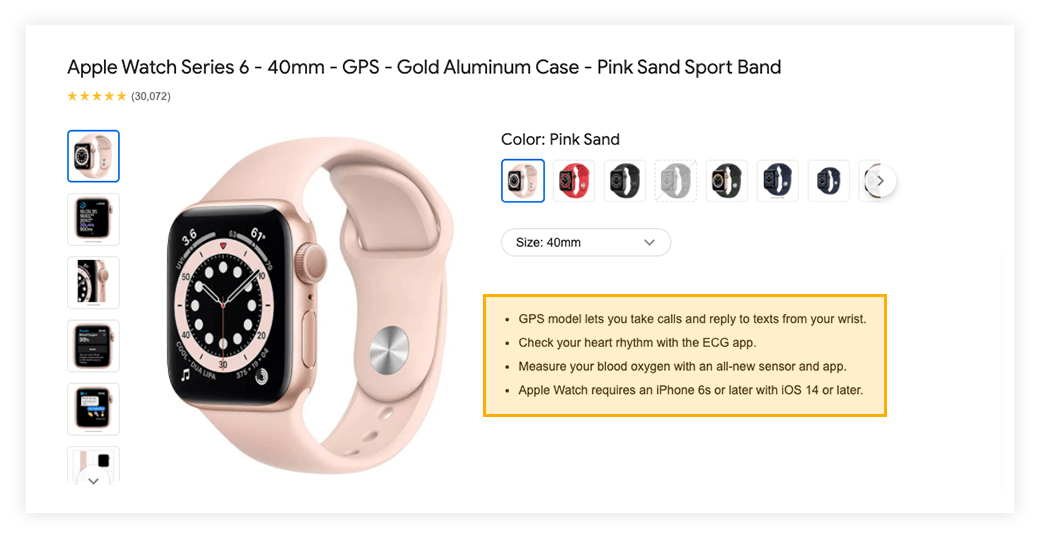 Once your product description's abstract is ready, optimize your copy for Shopping ads by adding keywords to the descriptions.

While advertising your products on Google, ensure that the product description is meaningful along with being keyword-rich. This helps your product to appear more in the search ads results of Google. Please be sure, though, that you do not just stuff keywords in the description.
To make your product description keyword rich please take the help Keyword Planner available in Google Ads, which will help you to know the most searched keyword for the products you sell on your website.

Let's have a look at the step by step process for figuring out your relevant keywords from your Google Ads account:

Step 1: Go to the Tools & Settings page of your Google Ads and click on "Keyword Planner".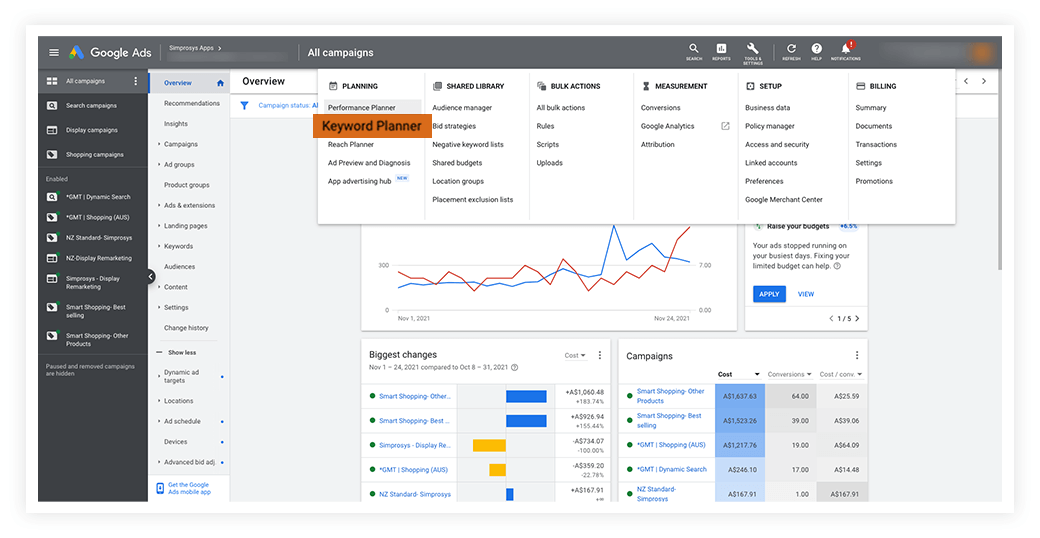 Step 2: Click on the "Discover new keywords" tab to proceed ahead.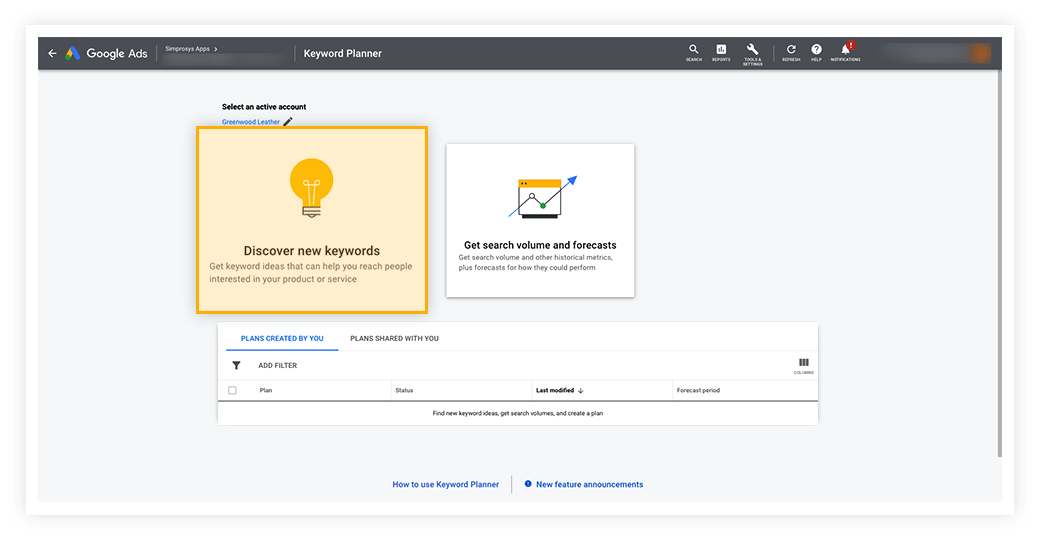 Step 3: Enter the name of the product you sell on your website along with your domain address under the "Start with keywords" tab.

You might also provide your competitor's domain URL if you want to get a sense of the keywords they're using. It is optional to include a domain URL; you might simply add generic keywords to define your product's description and make it keyword rich.

In addition to providing keywords, you may choose the default language and the target country for which you are looking for keywords.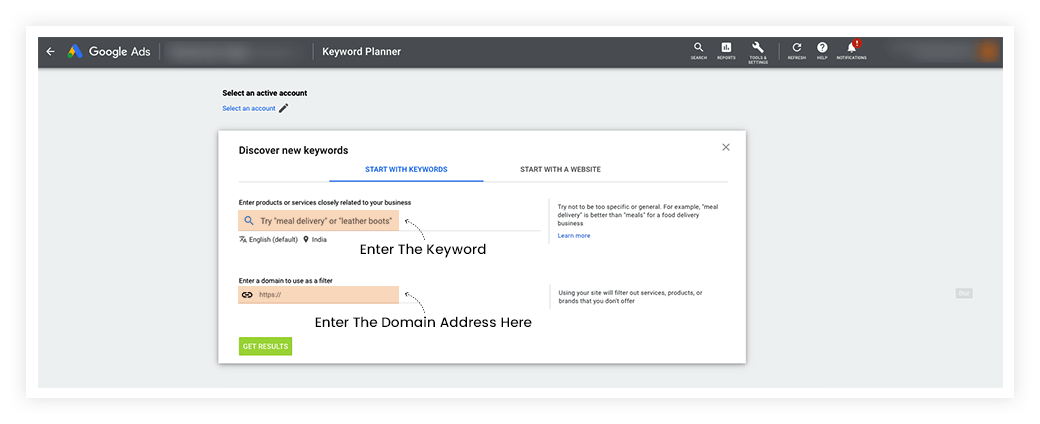 You may alternatively select "start with your website" and provide your store's URL; this would allow Google to generate a report on keyword performance from your store and provide you with more ideas for new keywords.
Step 4: For example, we are looking for the term "Leather bag" to get an idea about the monthly average search we get related to the same or similar keywords.

This helps us identify the highly searched keywords that can be later used to optimize product title & description.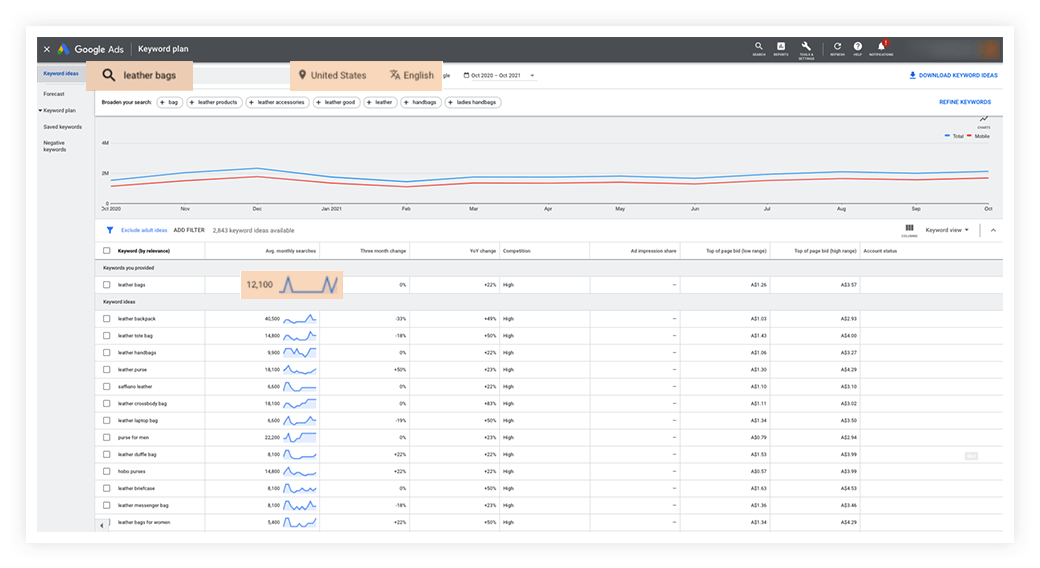 Remember that product description optimization is an ongoing process, so keep optimizing your product descriptions until you get desired results.