Importance of submitting product reviews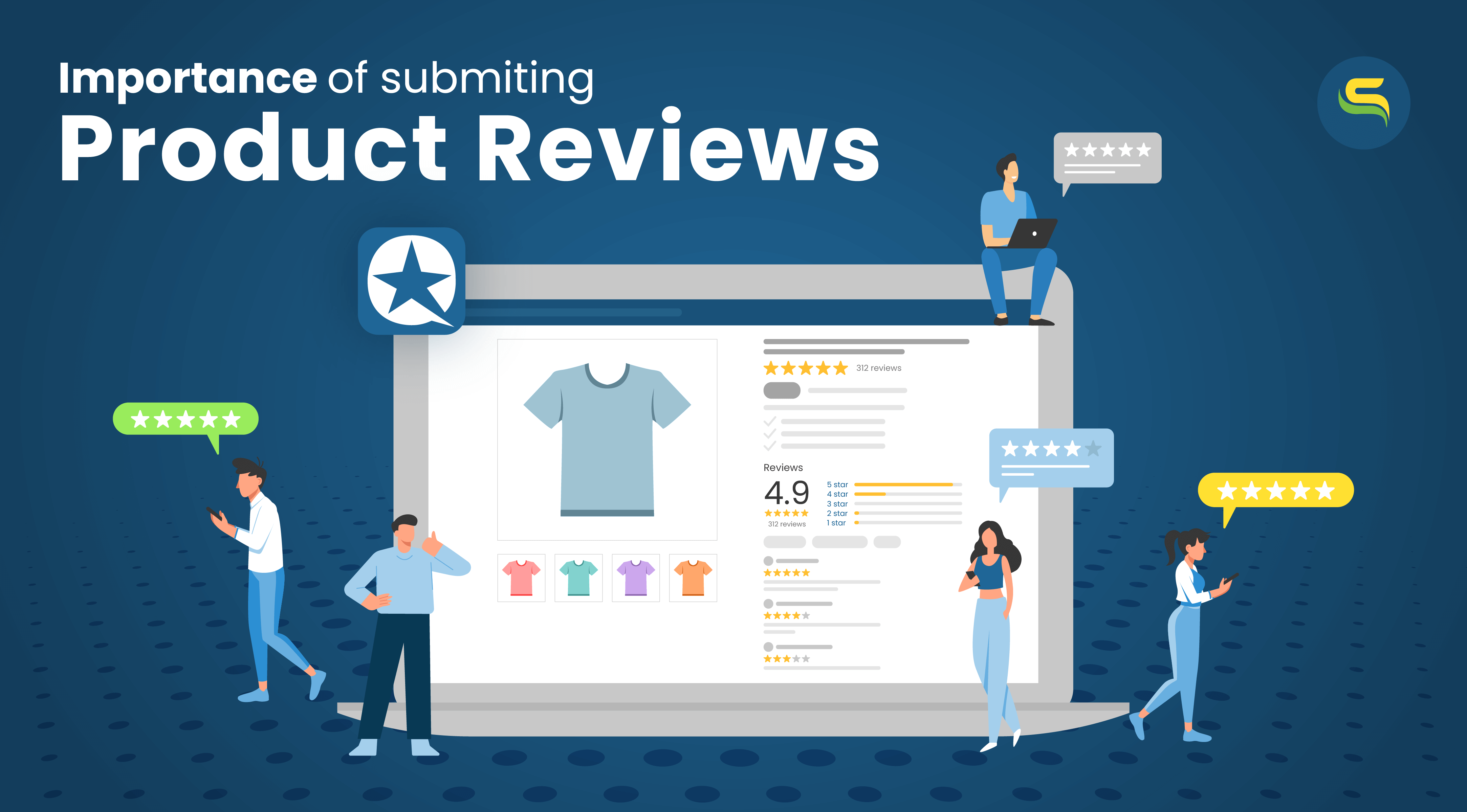 Being social creatures, we always keep seeking validation. When it comes to shopping online, most people make their buying decision based on what others think about the product. Product Reviews on your online store or on your shopping ads give your prospects a notion about the product you are selling.
Many Shoppers like to read product reviews online before buying from a store. This gives them a sense of idea if the money they are about to spend on the purchase of a product is worth it or not.
To help merchants drive more qualified traffic to their stores, they can take the help of one of Google's programs called " Product Ratings ". The 'Product Rating' program allows you to display aggregated reviews for your products on Google's platform.

Product ratings are shown in ads and free listings, appearing as 1 to 5-star ratings along with the total review count for a product.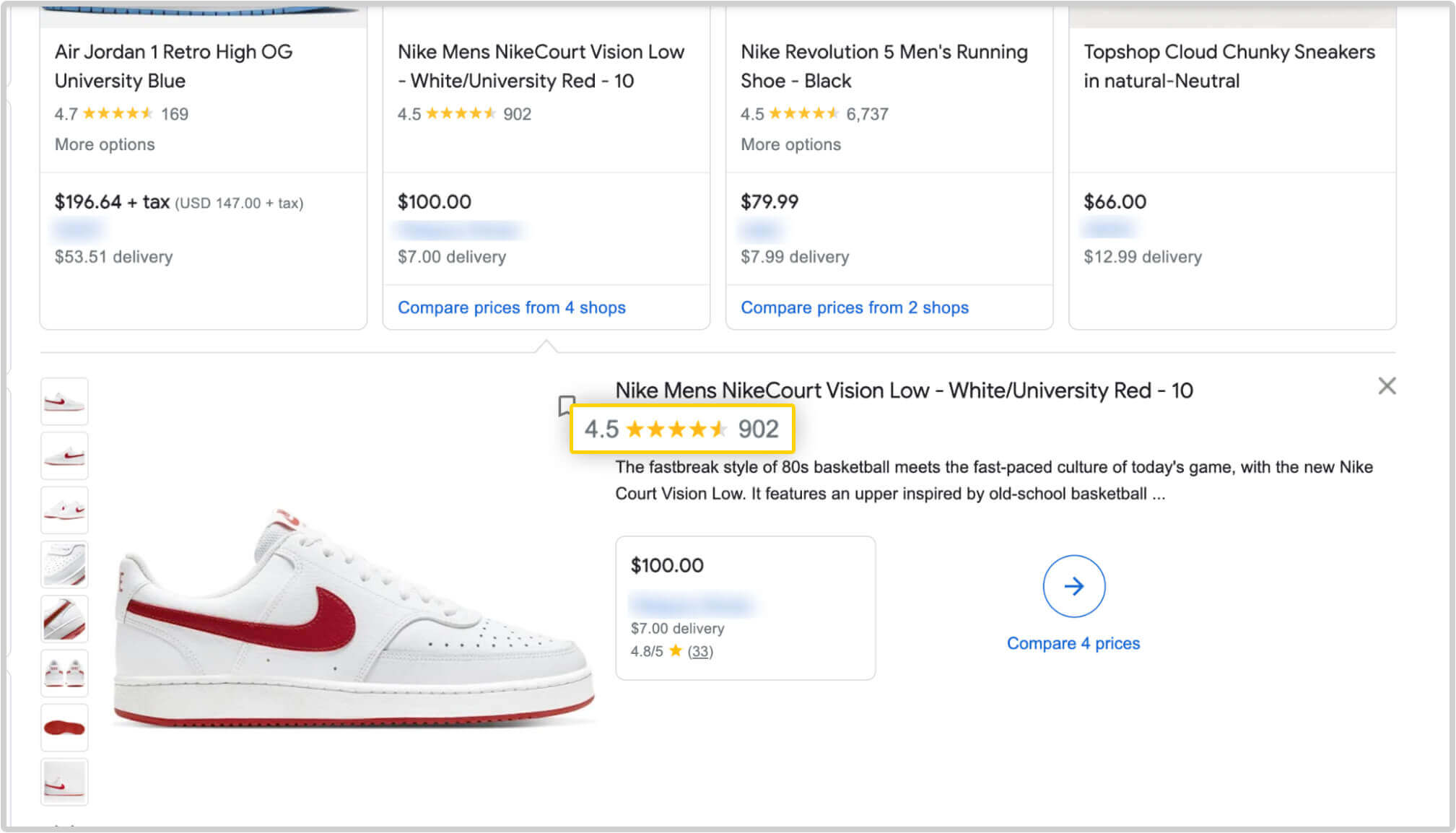 How to submit product rating feeds on Google Merchant Center?
The first and foremost thing that 'Product Ratings' needs is that you have a minimum of 50 reviews across all of your products. Nowadays merchants have a lot of different options to collect reviews and feedback for their products and online stores.
There are two ways through which you can submit the product rating feed in your Google Merchant Center:

1. Upload- This method requires you to retain a data-containing file on your computer and upload it to your account on a regular basis using SFTP, FTP, Google Cloud Storage, or a manual upload.

2. Schedule fetch- With scheduled fetches, you host your feed files on your servers. Schedule fetch requires you to set the desired frequency, timing, and location of the feed.
Make sure your feed meets these prerequisites:
The XML feed and the URL of your file location must begin with HTTP://, HTTPS://, FTP://, or SFTP://.




(You can supply a single XML file or multiple XML files compressed into a .zip file.)
2. Under no circumstances may the size of a single XML file exceed 100 MB
Steps to enroll for product rating feed:
1. Log in to your Google Merchant Center, Go to "Manage Programs" under the Growth section.

2. Once you reach the "Product Ratings" tab, click on get started.
3. When you enable this program you will be asked to fill up a product rating interest form. Once you submit the form it may take up to 2-4 weeks for Google to review and to get your account approved for the product review feed.
4. Click Marketing in the navigation menu.
5. Click Product Reviews.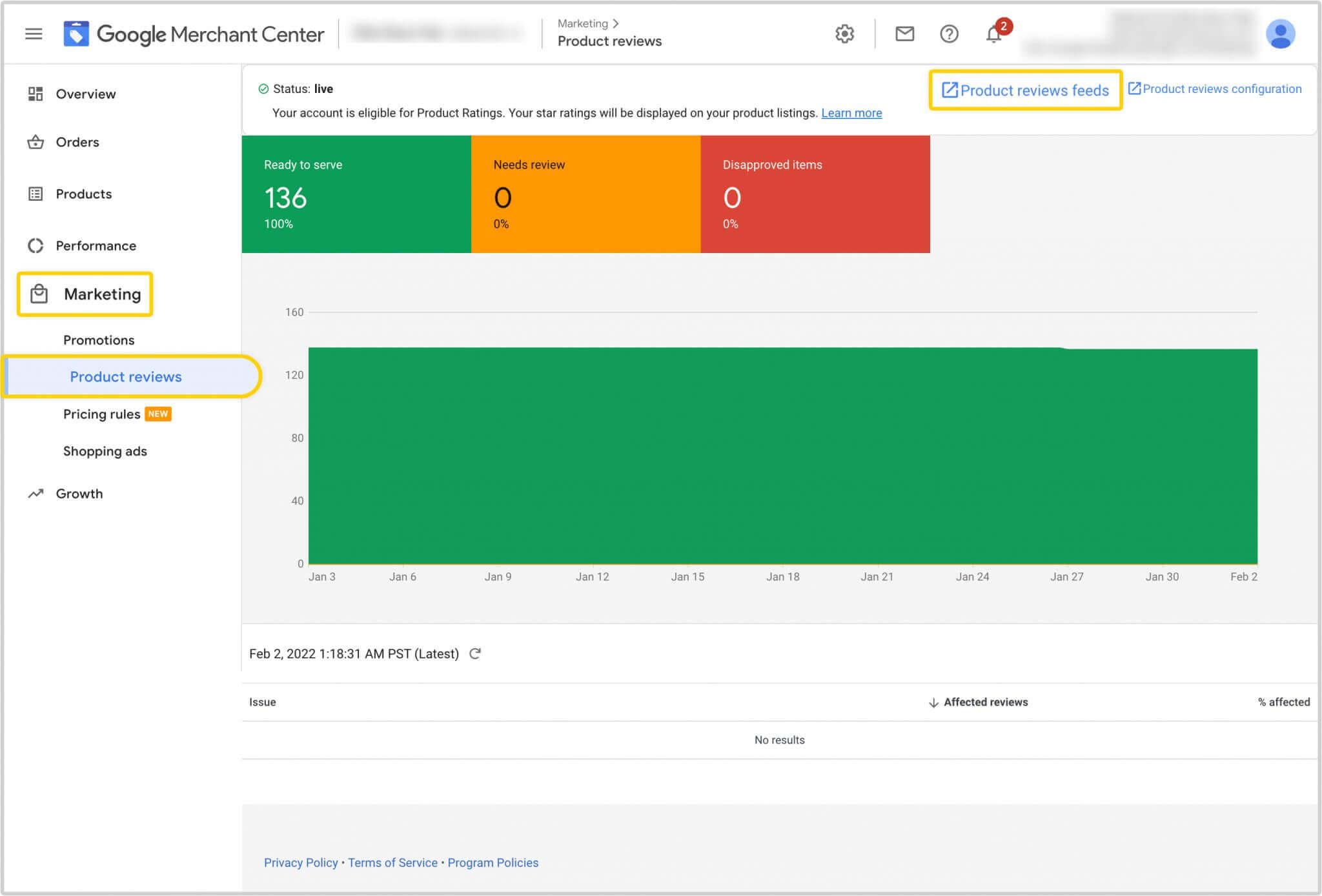 6. Click the "Product reviews feed" to open the "Feeds" page.
7. Click the plus button on the "Feeds" page.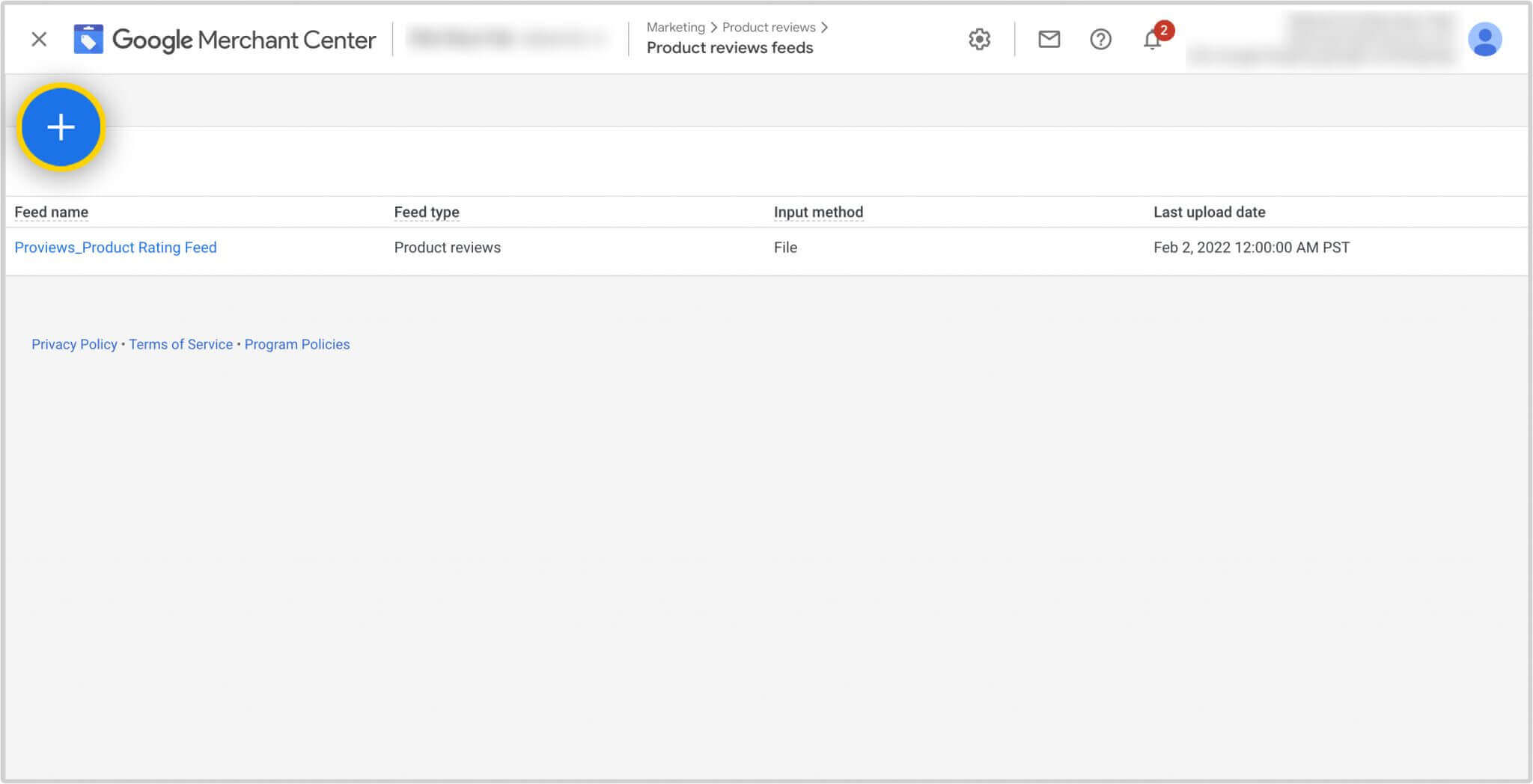 Note:
Once you submit the product review feed, it will initially show a pending status and will get approved within

2-4 weeks

.

Whether you choose a "Scheduled fetch" or a direct "Upload", at a minimum, you would need to send the review feed at least once a month, if not more frequently. So that you'll remain eligible to participate.
Key Benefits of submitting product reviews
Increases the product authenticity, reliability, and brand engagement among new visitors as well as existing customers.

Rich data feed along with product rating increases your chances of getting eligible for an enhanced free listing.

Provide shoppers with a transparent and comprehensive experience.
Note: Providing a product review feed does not guarantee that your content will appear on Google. Your reviews must always comply with Google policies such as:

(i). Retailers must share all their reviews with Google through monthly updates.
(ii). Review feeds must adhere to content policies. For example, it should not contain Personal and confidential information, Copyrighted content, Hate speech, Off-topic reviews, Duplicate content, etc.
(iii). User-owned and generated images must adhere to Google's content policies.

Please read about Google's product review feed policies here.
The reviews feed is matched to products based on a number of factors, the most prominent one being the unique product identifier GTIN (Global Trade Item Numbers).

Without GTIN values, Google will attempt to match reviews through other information such as SKU (Stock Keeping Unit), Brand + MPN (Manufacturer Part Number) pairs, and product URLs.
Good Apps For Integration
If you are looking out for incorporating your product reviews into Google ads, below listed are a few paid apps that you can add from the Shopify app store.
1. Judge.me Product Reviews | Reviews
This app is available on the Shopify app store and has a free plan available but to display your reviews for Google Ads or PLA's they have paid plan.
2. Loox Product Reviews & Photos | Review
Loox is one of the apps available on the Shopify app store, it is famous for its awesome widgets and outlook that it provides to your Shopify store, but if you are looking to simultaneously add these reviews to your Google shopping results then this might get a bit costly.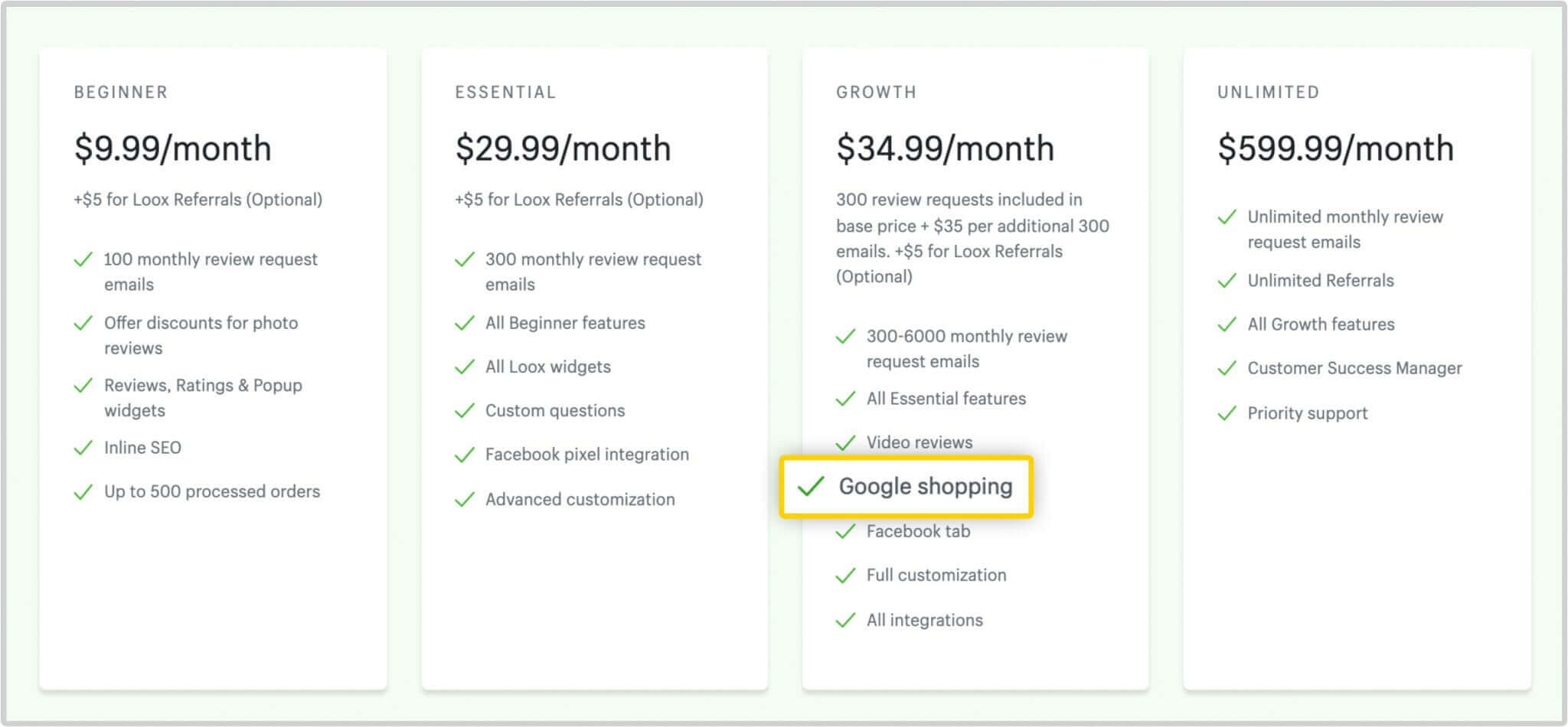 3. REVIEWS.io: Product Reviews | Reviews
This app is also available on the Shopify app store and contains a free plan, plus other good review collection options to give your store a lively feel. But then again to display your reviews in google Ads/ PLA's they have a paid plan as shown below.

4. Proviews ‑ Product Reviews Q&A
This app is available on the Shopify app store with a 21-day free trial. It charges you on the basis of the number of review requests that you send monthly, with all the other important features available starting from the basic plan, including product rating feed for Google shopping.