8 Most Common Google Merchant Center Errors & Fixes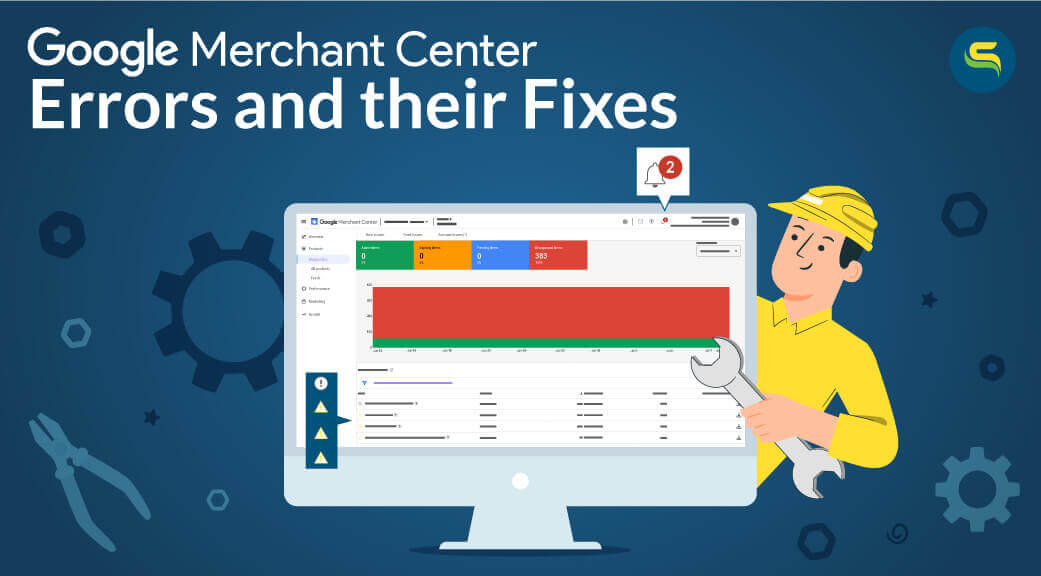 To ease out this pain, we have compiled some common Google Merchant Center errors, the reasons for their occurrence, and the ways to fix them.
Before digging into the errors, let's first understand the three types of flags raised by the Google Merchant Center.
ERRORS: Shown with a red icon

, this usually indicates account suspension or item disapproval. Hence, it becomes vital to eliminate these errors and make your products appear on Google Shopping.

WARNINGS: A warning, shown by a yellow icon , arises when your product data is not in compliance with Google's product data requirements. Despite this, the products remain eligible to appear in Google Shopping results. However, it may impact the feed quality and the product's quality score. It will also hamper your shopping campaign thereby degrading your Shopping Ads performance. Thus, it's recommended to be fixed as soon as possible.

NOTIFICATIONS: It is shown by a bell icon , which are Google's ideas for improving your product information, and they will not prevent your products from showing up on Google. It

assists you in improving data quality to the next level. It is recommended that you consider these notifications and take action to implement them.
Now, one by one, let's look into the common Google Merchant Center errors:
Errors can be of two types:
Account Level:

It results in the suspension of the entire account, meaning that none of the products are eligible to appear in Google Ads.

Product Level:

It results in specific products getting disapproved while the approved products are still eligible to appear in Google Ads.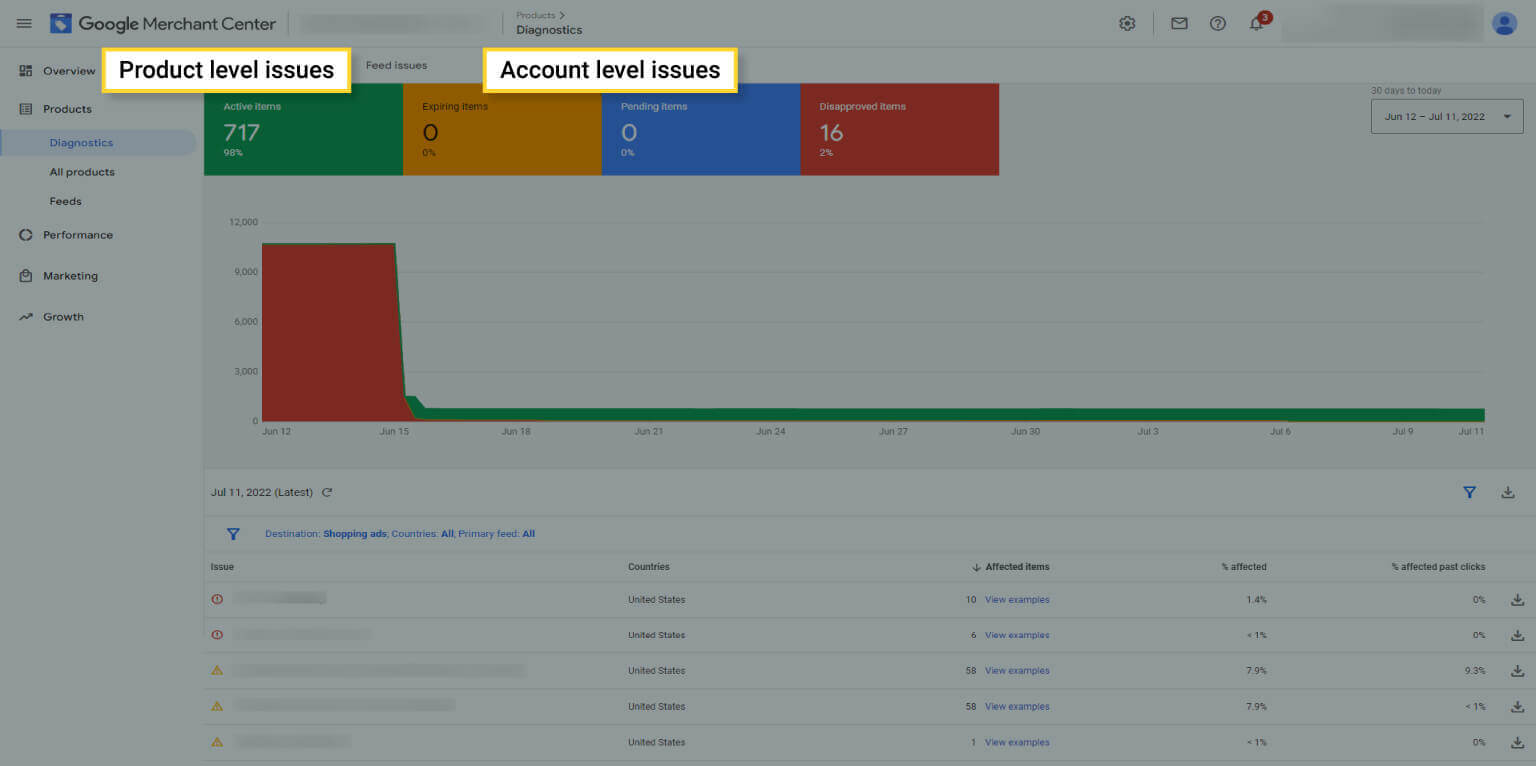 Account Level Errors:
1. Google Merchant Center Suspension
To avoid having your Google Merchant Center account suspended, make sure you adhere to all of Google's standards as it ensures a safe and positive experience for the shoppers. When these standards are not met, Google disapproves of your account to let you know that something's not right. Some of the reasons why Google policies get violated are due to a lack of relevant information and misleading, unrealistic, or untrustworthy promotions.
Some of the common reasons for Google Merchant Center suspension are:
Product Level Errors:
2. Missing Value [size, color, gender, age_group]
Specific sets of attributes are required for certain products, to appear in Google Shopping networks. For example, apparel and accessories require all of these attributes to be assigned, including size, color, gender, and age group, or else this warning will be raised. This will lead to low product quality and poor performance of your store.
To fix this, you need to assign all the missing attributes for the flagged products. Sometimes, this error might be raised for the products that don't require these attributes. This means that your products might have been wrongly categorized. You need to first assign the correct Google Product Category and then the attributes if required.
3. Limited Performance due to Missing Identifiers [GTIN, MPN, Brand]
This warning occurs when one or more of the identifier values are missing or invalid. All products affected by this warning will not be rejected from the Google Shopping program, but their performance will be unsatisfactory, which must be addressed.
For Google to approve your products from this warning, you can provide any two of the three identifiers. Since some items do not have GTINs, the MPN and Brand must be submitted. On the contrary, if you haven't provided a GTIN for your products and Google has the GTIN for those products in its database, the warning will be raised, requesting that you submit the GTIN to fix this warning.
4. Missing Value [Shipping/Tax]
We often notice that merchants tend to forget to set up shipping and tax settings in their Google Merchant Center account or provide inaccurate details which leads to errors. The products will remain disapproved until you set up the shipping rates and taxes.
Make sure you configure appropriate shipping and tax values in the Google Merchant Center by navigating to Settings > Shipping and Returns and Settings > Sales Tax, respectively. You can either set up account-level shipping or set the shipping attribute for each product individually. It should also be noted that shipping settings must be created for the currencies in which the feed is being submitted.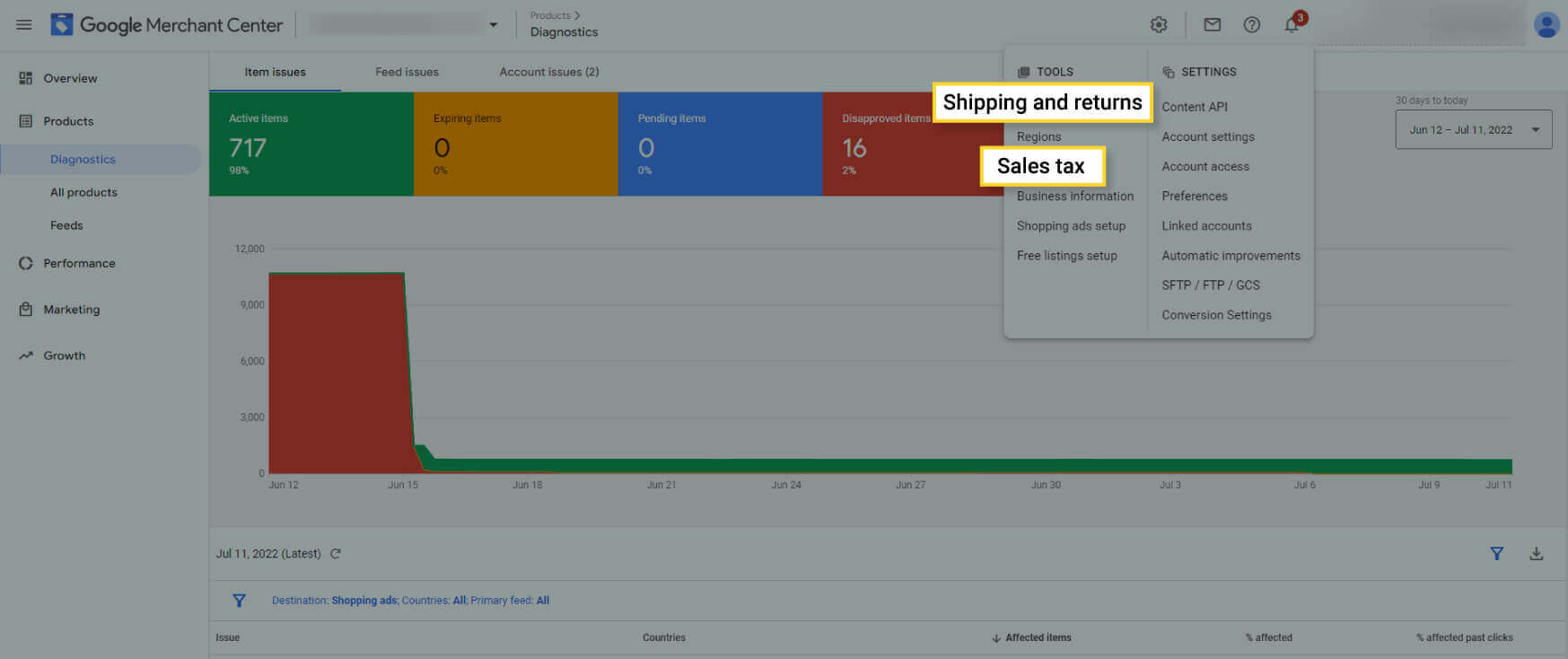 5. Mismatched value (page crawl) [Price/Availability]
This error occurs when the price and availability of a product on your website differ from the one on the Google Merchant Center. Google crawls over the product data from three major sources namely: landing page, product feed, and structured data markup (schema) to make sure that the price and availability are accurate and matching. To fix this, you ought to keep them updated. Keep a regular health check on your product data feed to ensure that everything is up to date.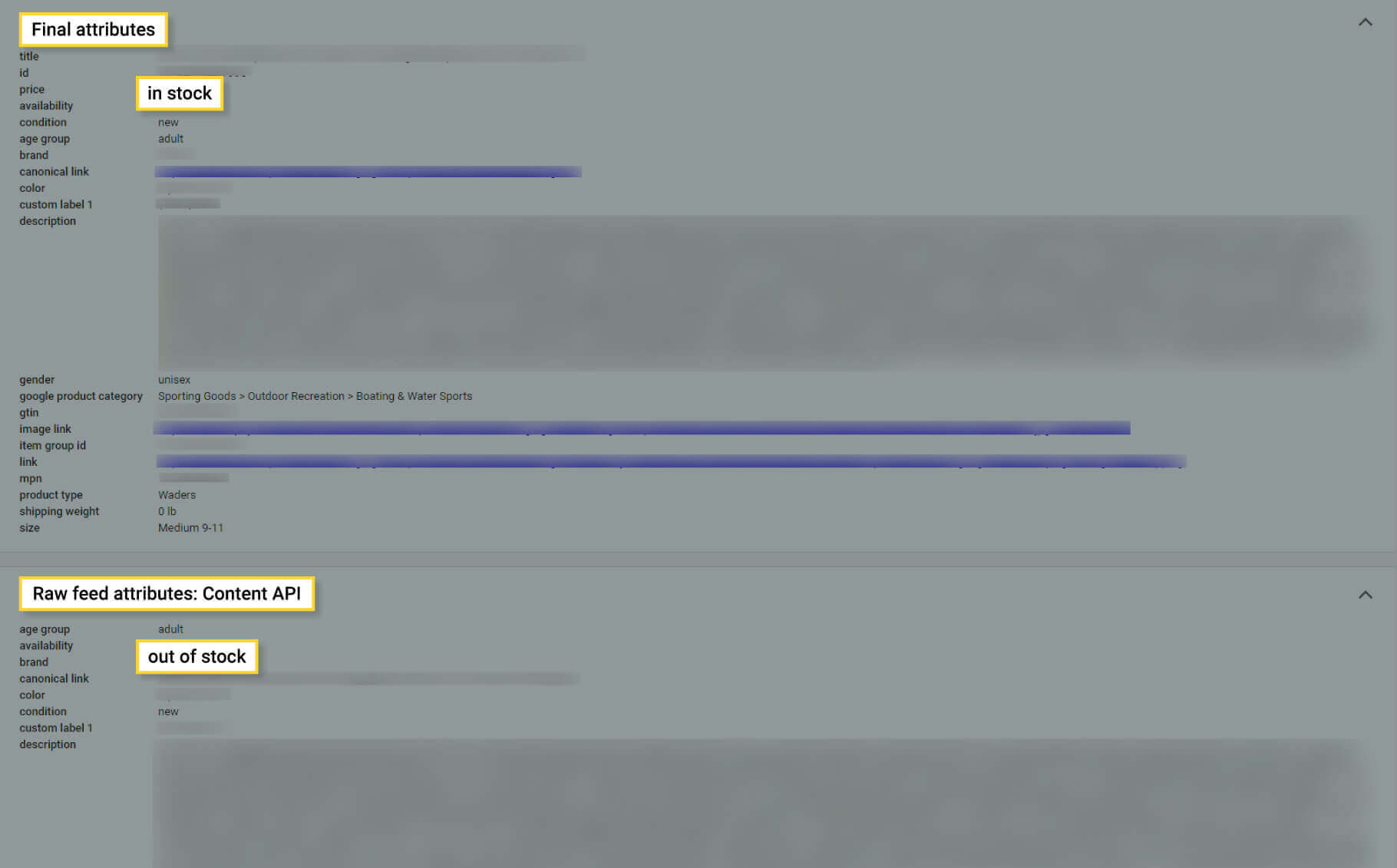 There is an effective, real-time approach for retrieving product price and availability, which is called automatic item updates. To utilize this, you'll need to add structured data markup to the product page's HTML. Product updates will be automated using the schema, which is a machine-readable format of your product data.
6. Promotional overlay on image [image link]
Google is very particular about the images you use for Google shopping. Since clear images of a product help shoppers to better understand them, it should be free from any kind of watermark, promotional elements, or unwanted text. Products that don't meet this requirement will be disapproved by Google.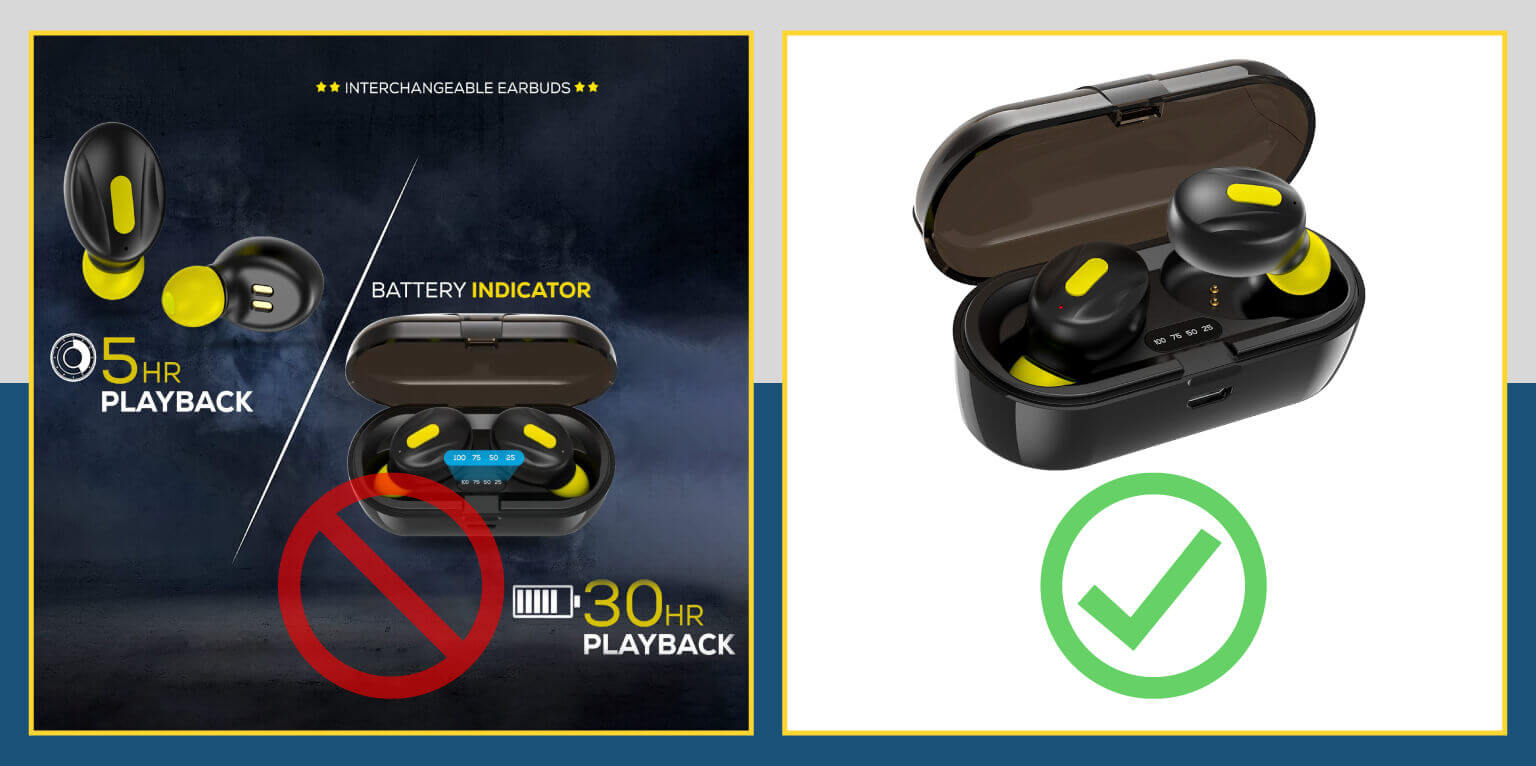 To overcome this, you can turn on the image improvement feature in the Google Merchant Center which may automatically fix your images. If this error persists, you will have to upload a better and more apt image adhering to Google policies.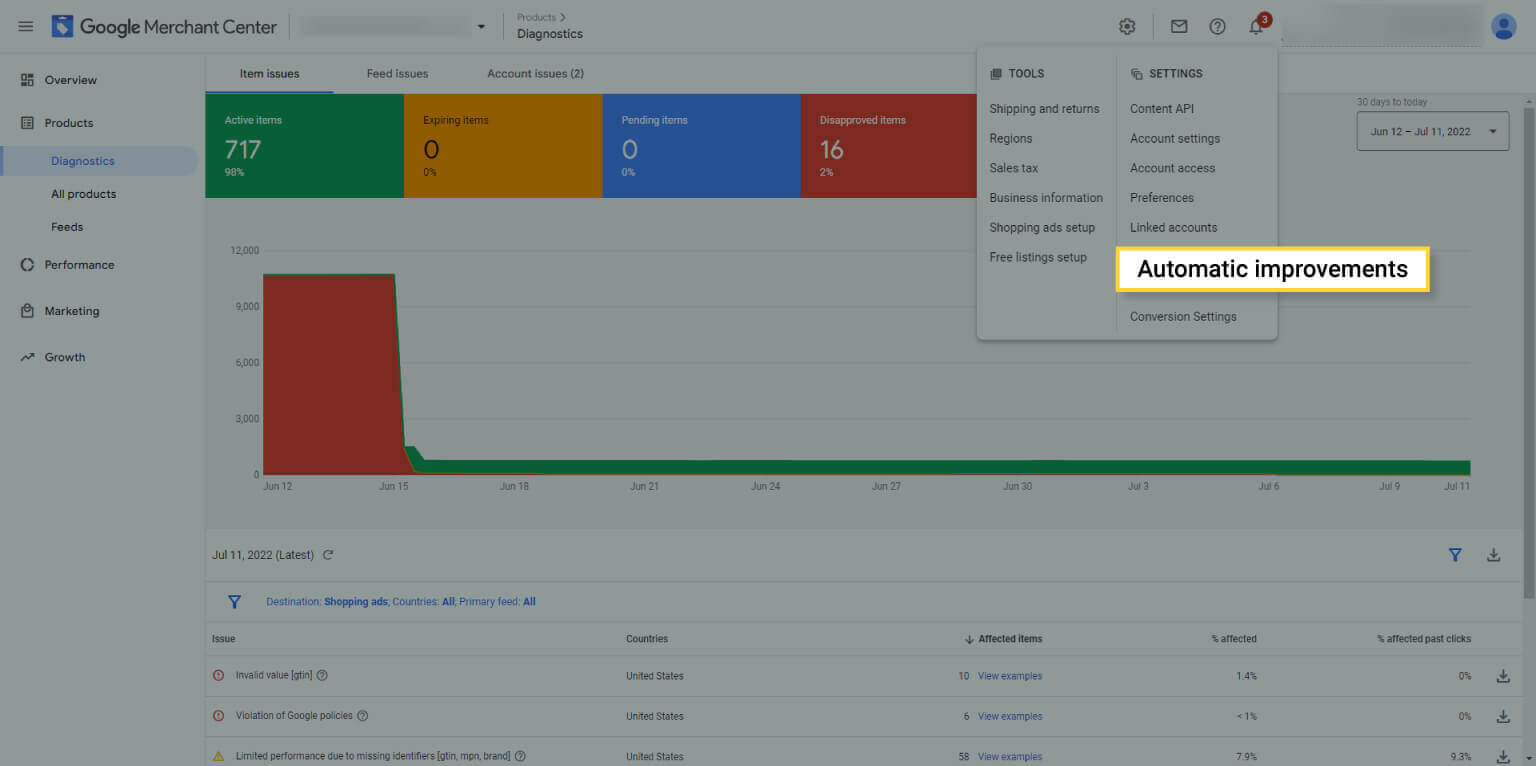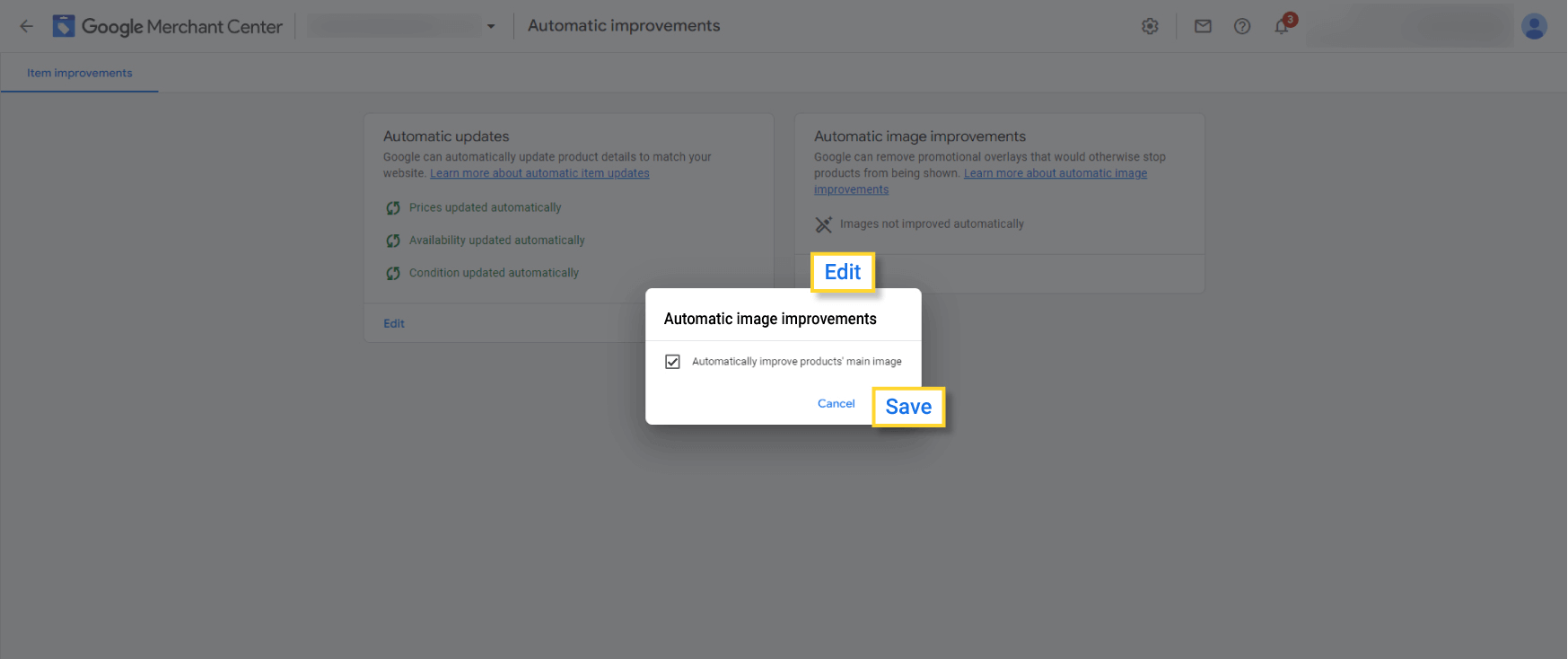 The product title should be up to 150 characters and the character limit for description is 5000. In case the limit exceeds, Google will raise the value truncated (too long) error. If Google feels that the product description is way too short for any shopper to understand, it will raise the text too short: description [description] error.
You must ensure that the required information is conveyed to the viewer within the maximum character limit.
8. Invalid Value: Google Product Category
Google has a finite range of Google Product Categories available for the products. This error will be raised if you submit a feed without any categories assigned or if you've assigned the wrong category.
To avoid this error, make sure the assigned Google Product Category matches the categories provided by Google. You can refer to Google's taxonomy while populating the Google Product Category field. It is recommended that you use the most detailed Google Product Category as this will ensure that your ad is shown for the right search results and to the right audience.
Pro-Tip
Now that you know the difference between an error and a warning, you don't have to wait until all your products are error-free. Instead, you can create shopping campaigns using the approved products to start generating impressions and conversions.
Encountering account suspension or errors in the Google Merchant Center is normal, but initially scary! When it comes to advertising your store on Google, you want the process to be swift and smooth. The more days you spend not advertising, the more traffic you are losing out on. Also, It's not just about feed submission, but about good feed quality resulting in better ad performance.
For most of the errors, Google has detailed online documents that you can refer to for your convenience. However, this is time-consuming and sometimes requires personalized support from product feed management apps for quick resolutions.
You can even contact Google directly if you are certain that your product data does not infringe any of Google's policies.
The sooner you solve the errors and warnings, the earlier you can start advertising your products.