WH Family Strategy of Digital Marketing with Prospecting & Remarketing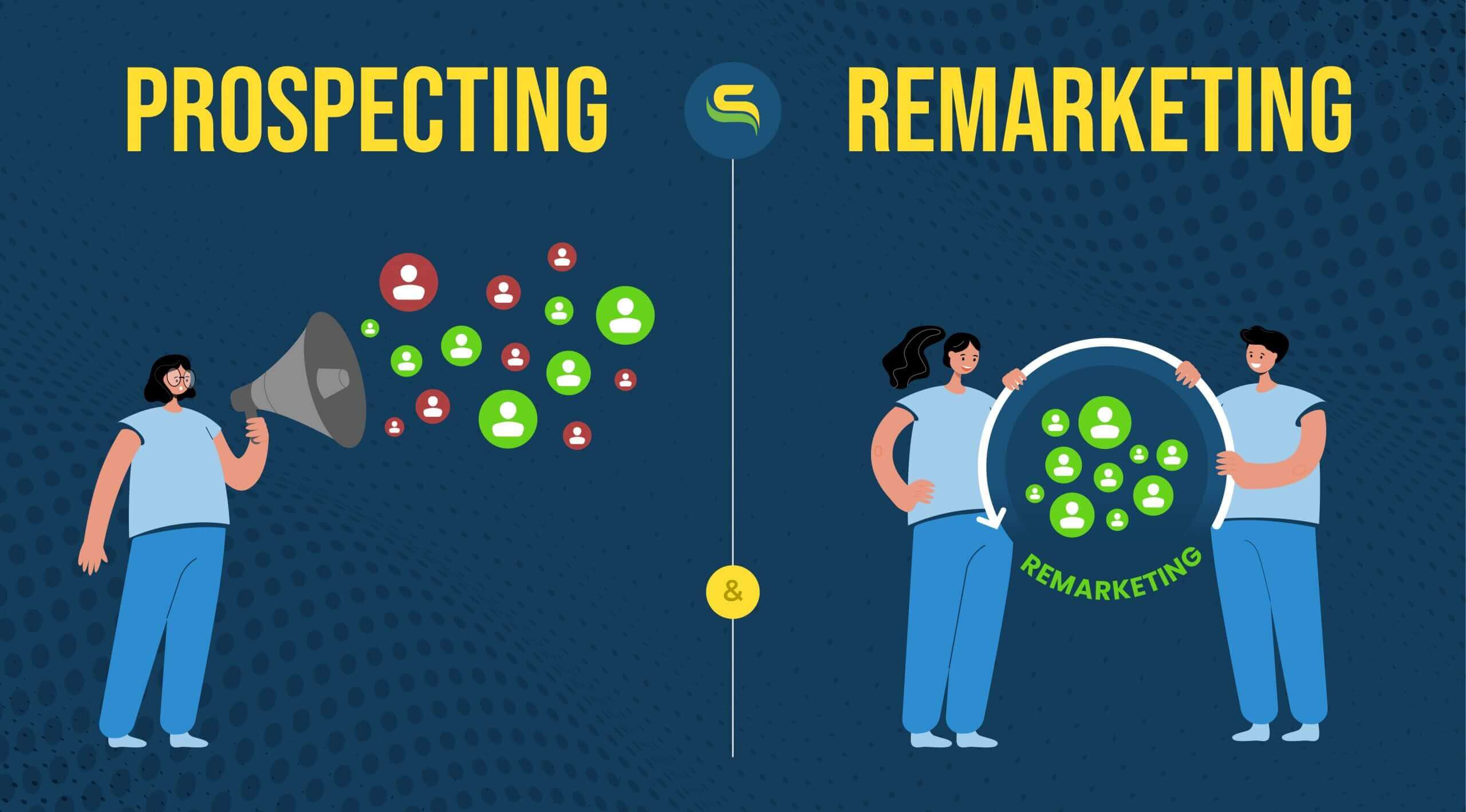 Previously we discussed primary questions What, Who, How, Where, and When of WH family strategy in digital marketing. Up next, we are going to learn two decisive concepts of digital marketing that will help us to build a core digital marketing strategy: prospecting and remarketing.
What is Prospecting?
When you try to pitch your sales pitch to anybody for the first time, to sell or raise awareness regarding your products or services, it is called prospecting. The reason why we carry out prospecting campaigns is to identify the potential buyers whom you can call prospects.
There are two types of prospecting methods, organic and inorganic.
Imagine you own a software company offering anti-virus software. Your website contains SEO-optimized content with keywords that rank you higher when someone types in a query with respect to anti-virus software and malware removal. Now, If somebody searches about malware removal online, and lands on your website through a search engine query organically, then it is called "organic prospecting".
Suppose that you are a new company and have SEO-optimized content but when someone searches for anti-virus or malware removal services you don't rank high enough on search engines due to multiple reasons.
Now, you still want to grab the attention of your prospects so you run display & search ads, and If somebody lands on your website through these ad campaigns then it is called "inorganic prospecting".
What is Remarketing?
If you have already pitched to or approached a prospect previously, and now you are trying to reach out to them again, then this process is called remarketing. The reason why we carry out remarketing campaigns is to re-engage prospects who are more likely to purchase with more personalized content so they complete their buying journey.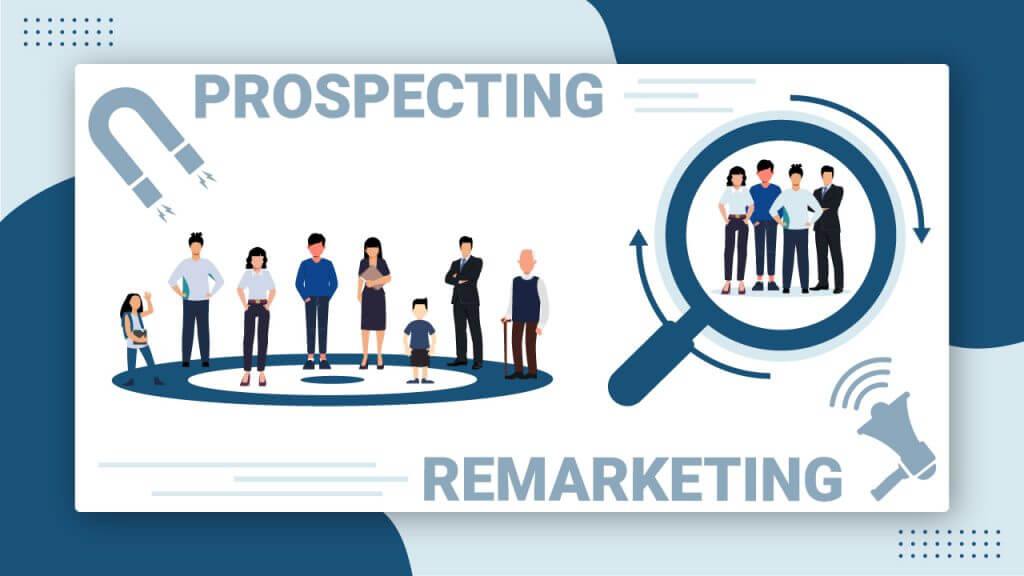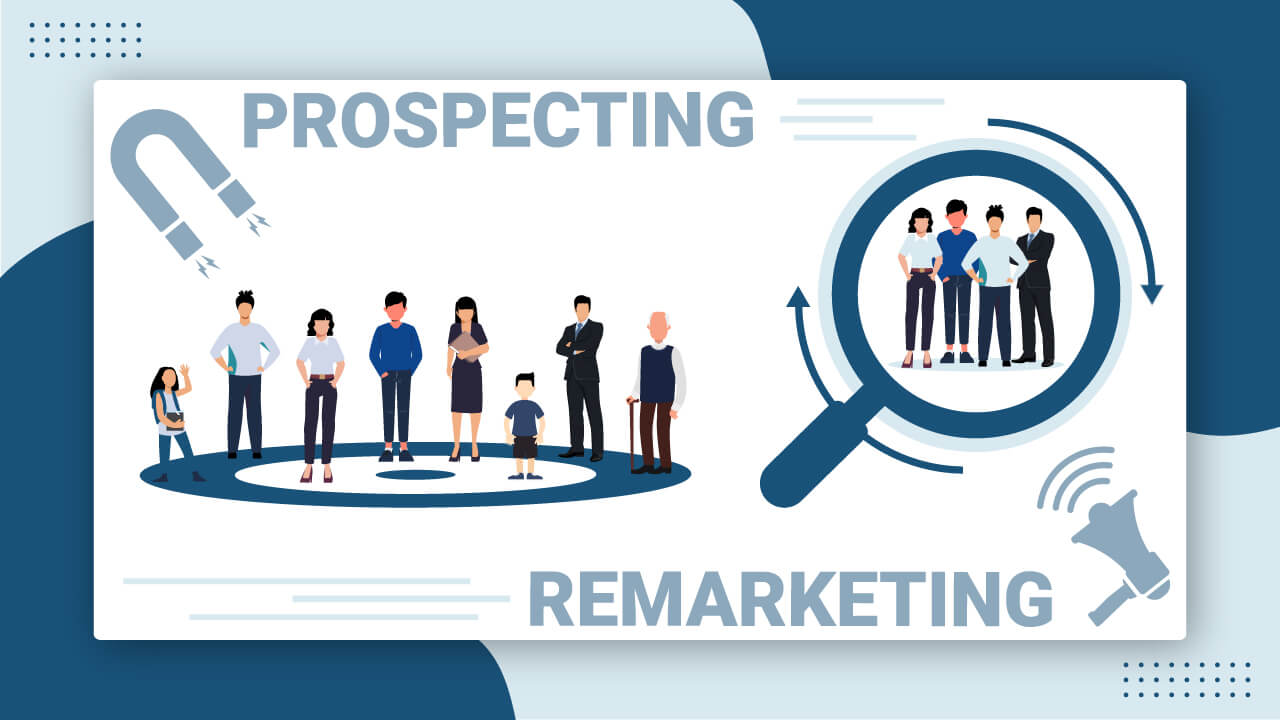 Prospecting & Remarketing Examples
Considering you are a shoe retailer and want to advertise your products to a new customer base or probable buyers, you can run shopping campaigns on Google & Microsoft Shopping platforms and also on social media platforms. So, when any buyers search for products – shoes online, they would get to see Ads about the same product in search results.
This is an example of prospecting and the campaign you run for the purpose of prospecting is called a "prospecting campaign."
Now, when you run such prospecting campaigns there are multiple ways to track the audience who showed more interest in your products or services. For example, you set down pixels on your online store to track visitors who interacted with your store in multiple ways, like they added your products to the cart but didn't check out or added final payment info but due to some reason canceled the transaction.
Thus, when you run display and other forms of dynamic remarketing Ad campaigns reach out to these audiences and retarget them with different kinds of offers or options so that they re-engage with your brand and continue with their product purchase. This is an example of remarketing and the campaign you run for such a purpose is called a 'remarketing campaign'.
Let's understand it with one more example. You are a B2B company that provides designing and video editing tools. You are launching a new version of your video editing & designing software.
And your target audience is B2B businesses who could use your software to create engaging product videos. In this case, you can run prospecting campaigns for marketing and branding managers on Linkedin, Twitter, and Youtube. Also, you can advertise with display, discovery, and search campaigns on Google, so that you engage people looking out for video editing and designing services. This is an example of prospecting.
Similarly, you can track down people who engage with your ads with help of different tracking methodologies like website pixels and can provide them attractive offers to re-engage them with remarketing ads on social media and search engines.
In the above case, you can also run email marketing campaigns to retarget B2B companies who have already used your services prior to launching this software as you already have their email data. You can design creatives like banners and custom ad copies for email campaigns to grab the attention of B2B companies. This is an example of "remarketing".