Holiday season strategies to skyrocket your E-commerce store visits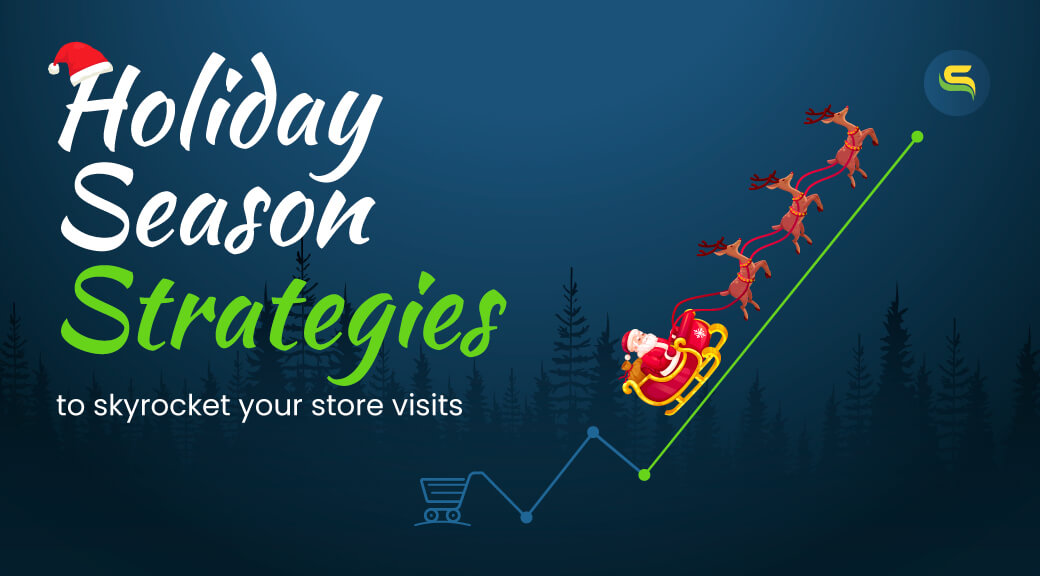 Festivals are the most exciting time of year for people all around the world. A lot goes on around you, from spending time with family to decorating your homes, buying and gifting items for loved ones. People are more inclined to buy anything new in general. These factors combine to make this the most exciting period for all E-commerce businesses.
The Christmas season is the first thing that strikes our mind when we think about the 4th quarter of the year. This is the time of year when people are in the mindset to purchase gifts for their loved ones or to splurge extra cash on themselves. Taking advantage of these festive seasons, this becomes the finest time of year for merchants (Online Retailers or Store owners) to boost sales for their stores.
When it comes to online shopping, store traffic is always high around festivals. Most shoppers wait for the 4th quarter of the year to grab exciting deals on holiday shopping. Hence, it becomes essential that you keep your store ready to welcome more than usual visitors.
Black Friday week has already passed, therefore you may assume that it is too late to begin planning now.
Well, it is late, but don't worry! Christmas is still around the corner, and we can work together to ensure that you have a fruitful holiday season this year.
The key is, you must be swift in your actions.
At this last minute, what could be a better place to advertise your products other than Google? It is a vast platform with billions of users on board. Google is not just a search engine but owns various other properties like YouTube, Gmail, and Maps. This implies a single platform can give you an extensive reach that will let you connect with a variety of prospects.
Improvise the shopping experience in your store
Prepare your online store for the upcoming traffic
With a number of shoppers visiting your store in search of holiday deals, the increasing traffic could lead to the crashing of web pages that aren't properly optimised. Crashing of your website or failure of a payment gateway can lead to creating a long-lasting negative brand image. You cannot afford to lose prospects at this time of the year when site speed really matters. Audit your website and address any bugs to avoid something like this occurring in your online store.
Give your online store a perfect holiday outlook
Another thing that you can do to give your business an edge: Theme your promotional banners to the season you're promoting. Further, give your website the look and feel of holiday cheer!
Following techniques can be used to enhance the look of the website this holiday season:
Place a festive call to action –

Use clickable banners and imagery on the homepage to guide customers towards

campaigns of

Christmas combos, New Year specials, and more.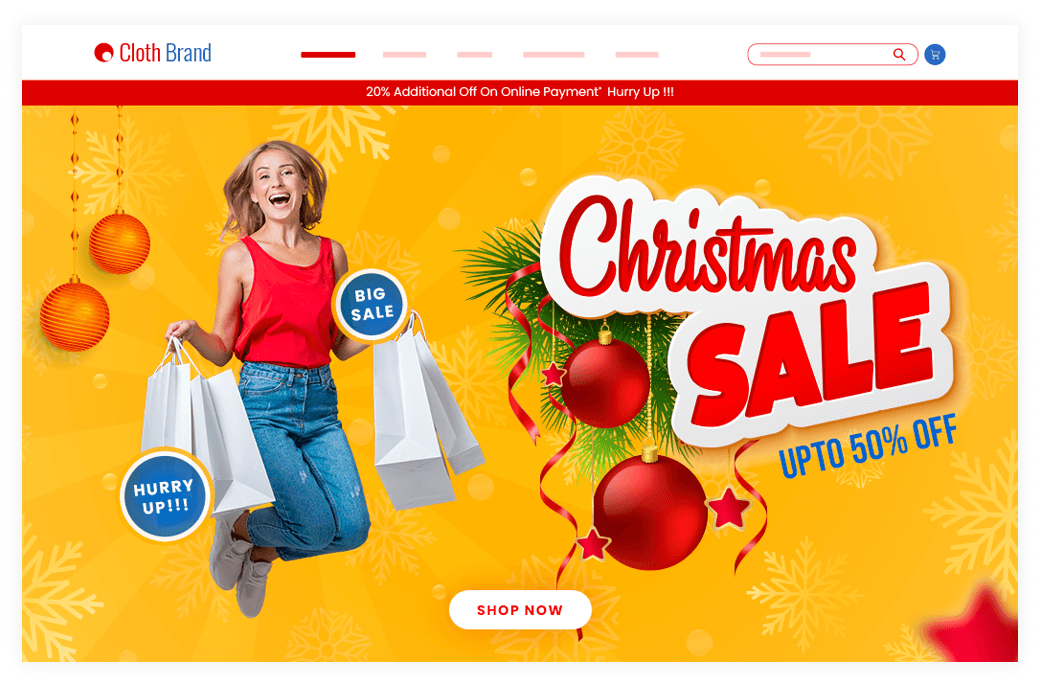 Holiday greetings with a festive touch –

Participate in spreading up the right holiday vibe for the upcoming holiday season, with simple yet delightful greeting texts, content, and small graphics on website.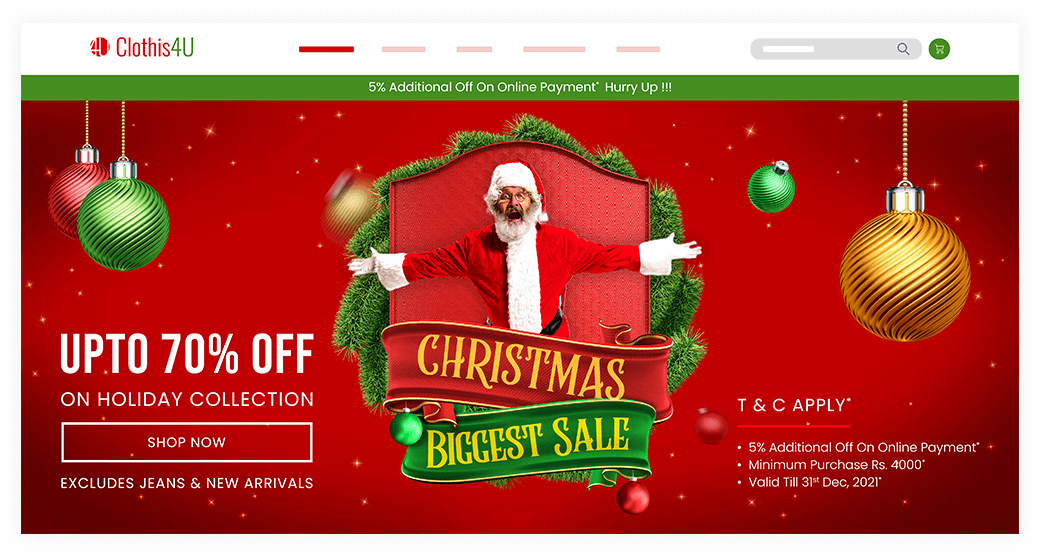 Change visuals and graphics based on local festivals – Various regions have differing holiday and shopping events spread across the last quarter of the year. Change your store's graphics and visual aesthetics with respect to the biggest event in your region.
Restructure your website to make it easily navigable – Shoppers search for holiday trends, gifts to buy for loved ones, places to visit, etc. You can enhance your prospects' chances of converting by guiding them to find things they're looking for, especially during the Holiday season.
The products on your website can be categorized as per shoppers' convenience, for example you can create the following categories on your website during the holiday season:
Main products with Holiday offers on the home page.

Holiday-themed products based on use cases and discounts (Ex: Product with 10% OFF, Products with 20-25% OFF)

Make sure that the products that you have in-demand should not be more than two clicks away from the home page
Improve & Optimize your product feed quality
If you haven't looked at your product feed in a while, now is the right time!
The first step in getting started with Google Shopping is to register a free Google Merchant Center (GMC) account. If you have a large number of products and use a major e-commerce platform like Shopify, WooCommerce or Magento, you should be able to connect GMC with ease with the help of available feed management apps or plugins.
Get a feed management app for your store
The holiday season will undoubtedly be chaotic; hence save your time by automatizing the feed submission process using a feed management app that can map your product feed and regularly submit the most up-to-date data to GMC, ensuring that your product data is fresh. For example, updated product prices, promotions, and stock availability.
During the Christmas season, usually, the product demand is high, so there is a possibility that you may run out of a few popular items. As a result, we ask you to have a few additional counts of the most popular items in inventory.
There are a lot of paid and free apps that can help you with feed management tasks but it is important to make sure that the app that you use is authentic and easily navigable. Look for an app that can deliver the proper form of assistance whenever you need it.
**You can take the help of our app 

Feed For Google Shopping

 listed on Shopify's 
platform to automate the feed submission process, we also provide the right kind 
of support from experienced experts.
Update your product title & description according to the season
Based on the Search terms that have been driving sales recently, it may be worth refining some of your titles and descriptions to accurately represent your products in front of your shoppers.
**read more about title and product description optimization    
Submit Your Product Rating Feed
In addition to your product data feed, it is highly recommended that you submit the product ratings feed as well in your Google Merchant Center account.
Product ratings and reviews validate your products as trustworthy and hence engage a pool of traffic visiting your website. The goal is to establish your brand as safe and trustworthy among your competitors. This will increase your store's credibility towards your shoppers, especially during the holiday season, when there is a lot of "promotional noise" from every online store.
Promotions Feed & Automated Annotations
You may use Google Promotions to showcase the special deals in your Shopping Ads. Once a shopper clicks on special offers, a pop-up window opens up that shows a discount code customer can use to avail of the special deal.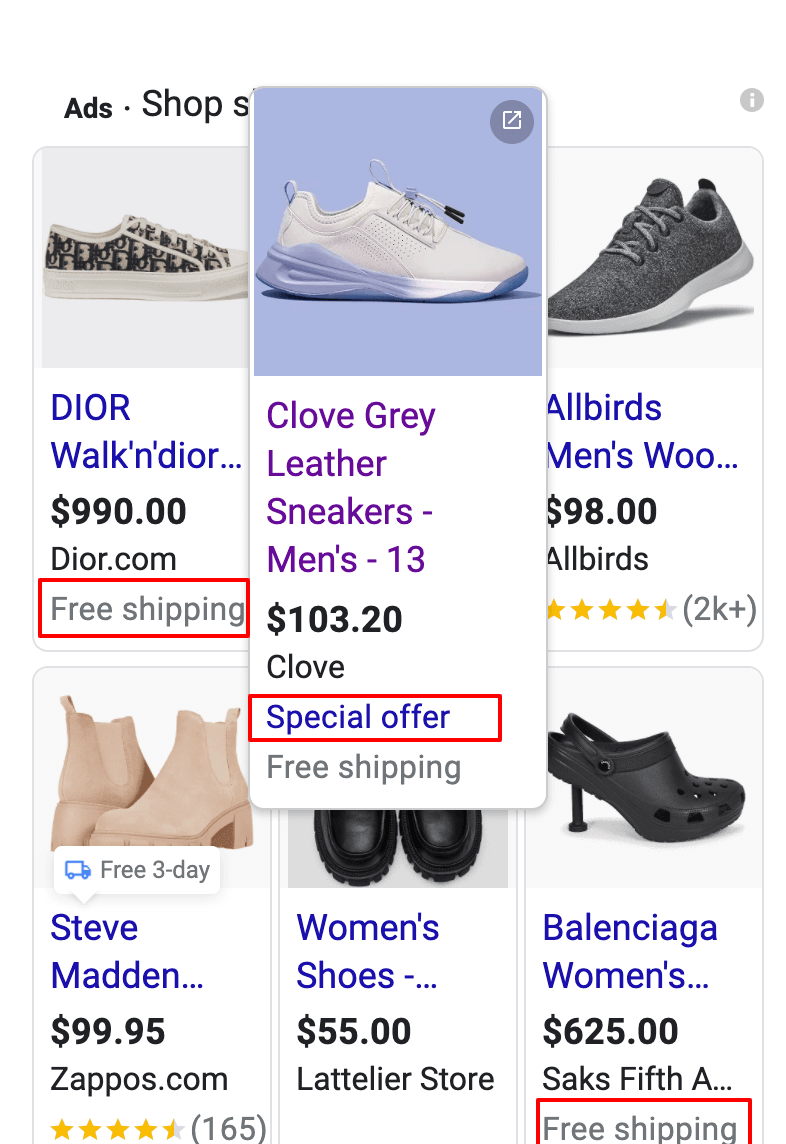 The Promotions feed can be directly created in Google Merchant Center account for 'specific products' as well as for 'all the products' or through feed management apps such as our app Feed for Google Shopping on Shopify.

Promotions can significantly impact your business, not only driving more clicks to your store but also it is observed that ads with promotions have higher conversion rates.
Apply the right marketing strategy for your store
While plotting your marketing strategy, you must strike a balance between making a profit, pleasing customers, and being competitive as well. Companies can now reach out to these audiences in a way that is both trustworthy and real.
We have a few suggestions for you to incorporate while marketing your products this holiday season:
1. You could Include a unique freebie (free product). This free product will not only make you stand out but will also serve as a reminder of your brand to customers. Affordable, practical, and memorable – a perfect marketing strategy that customers will appreciate during a busy holiday season.
For example, If you are selling formal shoes then you can keep an offer which gives shoe polish kit free on purchase of shoes within a pre decided price range.
2. Combining offers is one of the most effective ways to attract new customers and increase revenue. Make a package out of three or more things and sell the whole bundle for a discount.

For example: If you sell an iPad, you can offer a digital pencil compatible with the iPad in the bundling widget.
3. Try to create a sense of urgency in your audience. Discounted prices and special deals are common during the holiday season. Retailers can increase sales while retaining their brand image by using limited-time promotions.
To remind clients about these exceptional discounts, use enticing phrases like "Deal of the Day" or "Deal of the Hour" or "Black Friday Special" in your banners and ad copies.
Optimize your campaigns for better performance
1. Improvise your Ad copy
Optimize

your campaign's long and short headlines
Your ad description should be informative and up to date with regards to the ad image and the festive vibe.
Update your images and give them the appropriate festive vibe
Make sure your offer code is clearly visible on the ad banner
Confirm that the offers on the ad banner and Shopify

store are the same

Try to use similar banner as ad copy on your website to give shoppers seamless shopping experience
2. Update your budget
If any significant changes are made to a campaign (bid, ROAS) it enters learning mode, so it is not advisable to make any crucial changes in bidding strategy or bidding.
2. The other suggestion is to keep an eye on the campaign's performance for a while and see if the allocated budget is being spent on a daily basis. If 90% of your budget is being exhausted over time, you have the leverage to increase it by 20-30%.
Note: As our team has observed, minor budget tweaks will not put your campaign into learning mode, but changing the campaign budget by an exponential amount might take the campaign back to learning mode, which on the other hand might hamper the campaign performance.
Inshort, it's not too late to update things around your online store, you can still manage to get something out of the holiday season. Let us know in the below comments which of the above-mentioned things you have tried on your online store and also comment on what more can be included in the above article.