Google Search ADS: 10 Best Practices to Optimize Your Campaigns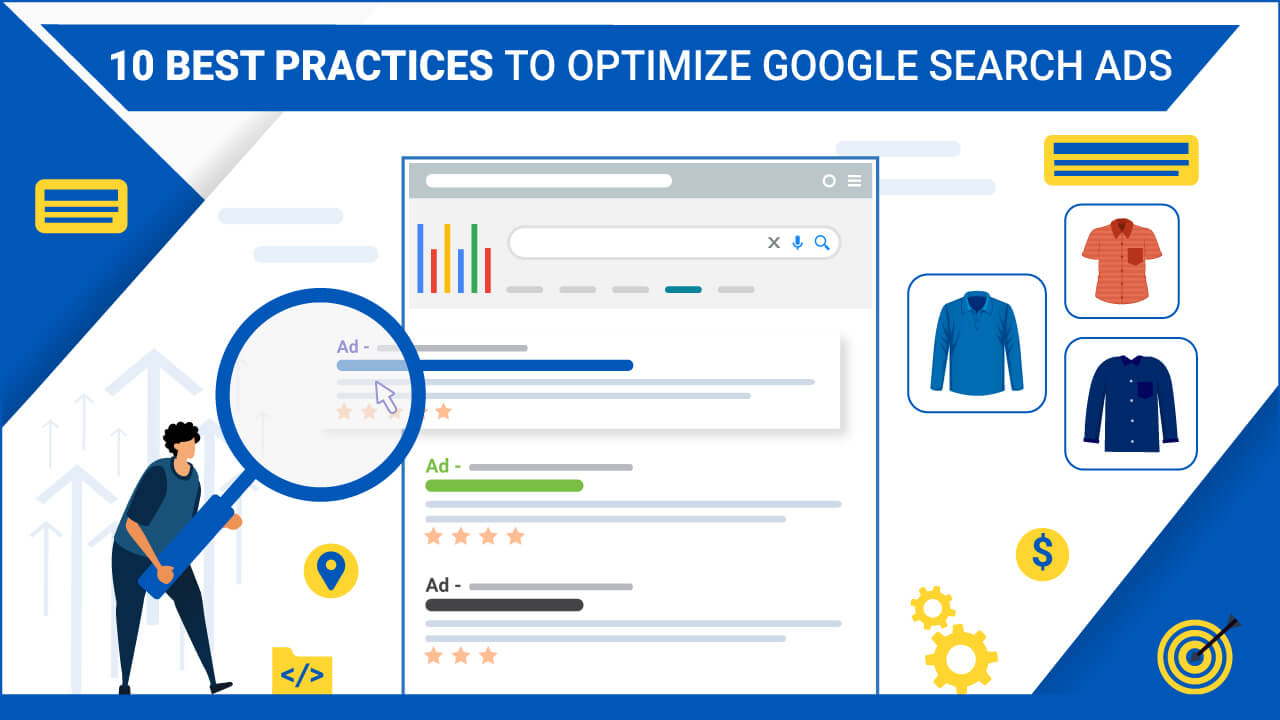 Google helps thousands of merchants sell their products online while simultaneously providing a seamless shopping experience to millions of online shoppers. Google Search ads have become one of the most important platforms for reaching out to potential consumers with the help of paid marketing.
To compete with these thousands of merchants online, it is essential for you to have a better outlook at your advertising spends, optimize your campaign to gain maximum ROI on minimum investment.
In this article, we are going to talk about a few best practices for optimizing your 'SEARCH ADS CAMPAIGNS' to gain maximum ROI out of it.
What are search ads?
Search ads are a form of PPC advertising where merchants pay to rank their ads above or below organic search engine results when users search for certain keywords or phrases. In other words, you can say that when users are searching for a particular thing, Google serves them these ads which are text-based with the following three elements :
Headline

Display URL

Text or description
Search Ads optimization practices
1. Search ad campaigns always start with choosing the right keywords and keyword phrases. This is one of the effective ways to reach and engage your potential customers.
2. Don't use generic language, use specific keywords and call-to-action sentences. Non-specific text always turns off the users and shows decreased engagement according to Google.
3. Your Ad copy must have genuine information and clarity, and your message should be focusing on use cases. This helps the consumer to get a clear picture of your message and also urges them to engage with it.
4. To verify the authenticity and relevance of your ad use Ad strength insights, thus you can avoid less engaging texts priorly.
5. Use cross-campaign asset reporting to analyze which of your headlines and descriptions had more success and then try implementing the same strategy.
6. Write relevant, eye-catching headlines. It is the first thing that a consumer looks at when he sees your ad, and it plays a very decisive role in deciding the success of your search ads campaign.
7. Use the correct character limit that Google has suggested
Headline: Up to 30 characters including spaces
Description: Up to 80 characters including spaces
8. Use multiple headlines and descriptions for your ads, make sure that each of them is unique and has a specific call to action. 
9. It is observed in many cases that Ads with multiple ad extensions have performed better than ads with single extensions. Try providing at least four to five ad extensions or more if possible, just make sure that you are using as many as possible ad extensions for your business.
10. Keep testing and optimizing all your headlines, Google also uses all the iterations possible for your headline and description to find out the maximum performance and keep analyzing what is working for you and what is not.
Let us know in the comment section below if you think we need to add a few more to this list.